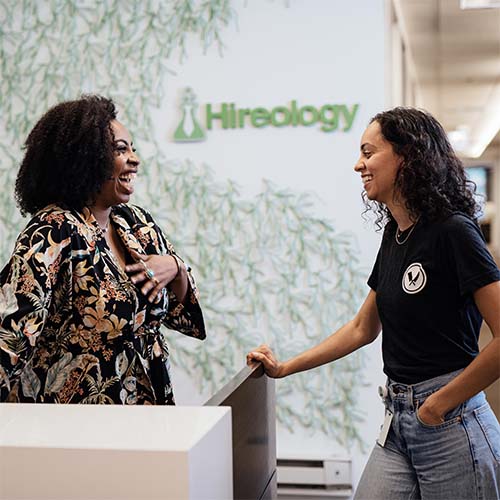 How Hireology can help you build a great employee referral program and add employee referrals on job applications at your organization
Employee Referrals - Hireology
Everything you need to build your best team
Hireology gives you the process and tools to attract top applicants, hire the right candidate and onboard with ease.
Employee Referrals - Hireology
A hiring process your team and candidates will love
Enterprise-caliber solutions connect you with your team and applicants to provide an incredible candidate experience.
Hire with confidence in our all-in-one platform
Businesses across all industries rely on Hireology to execute a human-centered hiring and people management process that works.
What our customers are saying
"I love everything about this platform. One of my goals is to run an agency with a post-pandemic view in mind. That means maxing out on paperless, electronic, virtual, and remote capabilities. Hireology allows me to do this effortlessly from my phone."
"Before Hireology, we had an outdated and inefficient hiring process. We now have a consistent and compliant process that allows us to make decisions backed by data to hold hiring managers accountable."
Human Resources Director |
Lincoln Park Zoological Society
"The customer success team at Hireology routinely takes the time to review applicants live with me. Getting a second set of eyes on my pipeline, in addition to learning techniques to save time, is the kind of customer experience I am looking for as a business owner."
Alphagraphics- Irving, TX
"Prior to hireology we were tracking all recruiting efforts across our 50 locations with an Excel spreadsheet. We were recruiting with blindfolds on, utilizing free local job boards and managing applicant pools out of our email inboxes. Since partnering with Hireology in 2016 we have redefined recruiting for Fox Motors."
Talent Development Manager |
"Hireology took our hiring platform out of a Google Sheet and into a sustainable platform."
Executive Administrator |
Learn how Hireology can help you attract and hire talent fast
Employee Referral On Job Application
If you've got an employee referral program set up at your organization, you know what a great driver it is for quality hires. If you don't, you may be wondering why are employee referrals an effective means of recruitment? Well let me break it down: 
Employee referrals are four times more likely to get hired
45% of employee referrals stick around for over four years, compared to only 25% of job board sourced employees who stay for two years
Employee referrals have the best return on investment from any other candidate sourcing avenue
That definitely seems like enough reason to implement an employee referral program at your business, but what is an employee referral? 
The employee referral definition is an applicant that is referred to an open role at your company by one of your existing team members. Oftentimes, employee referrals that are hired come with a bonus for the employee that referred your new hire, so there's incentive for your staff to participate in your program.  
There are various ways to approach setting up an employee referral program at your organization, and a common one you may know of is an employee referral on job application question. We'll cover this and more in the following blog where we'll go deep into why an employee referral program is a great way to find top applicants, especially in today's tough hiring market. We'll go over some examples of great employee referral programs, what you should consider when setting up the program, and how you should go about communicating it out to your staff. Read on to learn more. 
Employee referral benefits
As we listed above, there are some great benefits of an employee referral program. In addition to those, an employee referral program has the potential to increase your retention rate, employee productivity, and customer loyalty. Great employees have a great network, and adding more good people to your staff is the exact mission of your hiring process. So by increasing your employee referral rate, you're creating an environment that's welcoming and enjoyable, which leads to happier employees that want to stick around. And your customers will notice when you have tenured staff on hand — you'll be able to build their trust through relationships and that matters to customers, no matter what industry you're in. 
The purpose of employee referral programs is to get top talent into your organization, so keep reminding your employees about the program once it's implemented to drive awareness and really reap the employee referral benefits. 
What to consider for your employee referral program
The first step in setting up an employee referral program is creating an outline for what the program will look like. These guidelines can be established by your leadership team so that the rules of the program are clear and can be understood by all internal employees. 
Here's what should be covered in your employee referral program guidelines:
First, decide who is eligible: Do you want to exclude your C-suite from participating in the employee referral program? What about your HR team? This is a move a lot of companies make, sense looking for great hires is technically the job of your leadership team and HR team, so think about if that would be a good idea for your organization. 
Next, decide if you'll offer an employee referral bonus: It's common for employers to offer their staff a reward for submitting candidates that get hired on in order to keep their teams interested in spreading the word of your open roles. If you do decide to offer a reward, think about what type of bonus would be most exciting to your team, monetary or otherwise.
Then, decide the amount for your employee referral bonus: Certain roles that are more difficult to fill should be payed out at a higher level than those that you come by often. Create a payout structure for the different types of roles you have at your organization so that employees know they can get a hefty reward for finding top talent. 
 Lastly, decide on when you'll pay your bonus out: Some companies break up the payment for referrals to make sure both employees stick around. Studies have shown that employees that are referred by other staff members stay put in part because of the mentorship that's provided by the veteran employee, so consider breaking up the payments into two separate chunks — one on the new employee's first day and one a few weeks or months later — to help with retention. 
Employee referral example
When setting up your employee referral policy, look to other companies for employee referral examples. A few that do a great job of incentivising their employees to refer new candidates are Pinterest, Google, and our team at Hireology. We'll share what these companies do differently so you can get some great employee referral program ideas for your organization. 
Pinterest
Pinterest found that although employee referrals were a great source of top talent, it turned out that most of their top employees' networks were homogenous. As a result, the organization became less diverse over time. To combat this, the company used its regular internal messaging campaigns to prompt employees to focus on women and underrepresented groups. This simple reminder to prioritize more diverse talent resulted in a 55x increase in the percentage of candidates from underrepresented ethnic backgrounds.
Google
Google plants the employee referral seed from the very beginning of the new hire's journey. During employee onboarding, they ask their new staff members to name ten people they'd love to work for again and xx. They know that great employees know other great employees, and they want to capitalize on that as quickly as possible. 
Hireology
Hireology has just acquired EmployUs, an employee referral software, and while our employee referral program was great before, we now have the ability to automate the process, saving our HR team time and making it as easy as possible for our employees to submit a referral. They simply have to scan a QR code, fill out a short questionnaire about the candidate they are referring, and that's it! They can then track the progress of their referral by signing up for text alerts of when their application is moved along in the process.
These sample employee referral programs should help you get some ideas for your own company. Don't forget to get creative — there's always the chance for iterations later on. Use these employee referral explanation examples, or come up with something totally different — whatever works for your organization. 
How to refer someone for a job
When it comes to setting up how to refer someone for a job, you should think about the importance of an easy process. Your staff doesn't want to go out of their way to refer someone, even if there's a bonus to do so. You should make the referral process as easy as possible. With Hireology's recent acquisition, your employees can simply scan a QR code and fill out a short survey on their mobile devices. They don't have to submit a job referral email, and your HR team doesn't have to track referrals in a spreadsheet. Everything is handled automatically in Hireology, and candidates that have been referred are marked in the platform. 
Then, your employees can track their referral submission throughout the hiring process and can opt to receive text alerts when their candidate is moved along. This makes it easy for employees to check progress and gives them a solid idea of when their bonus will be coming. 

Employee referral program communication
Once you've established your employee referral program guidelines, it's important to create a strategy around your employee referral program communication. Think about the original employee referral program announcement. What's the best avenue for you to cascade the message to every employee in your company? Do you have an upcoming all-company meeting? Will everyone read an email about the new program? Consider what will work best for your organization, but make sure you get the attention of every one of your employees. 
Then, think about how often you will remind employees about the program, and the best way to entice them to submit their peers. You can highlight a new role each week and include brief bullet points on the requirements and duty of the position, along with the bonus payout amount. Or you can send internal communications on LinkedIn or through email reminding your employees about the new program. Consider coming up with employee referral program names that make the program more catchy and thus easier for your team to remember. Work with your marketing team to create designed digital or printable flyers to hand out to your staff. These attention-grabbing techniques will hopefully give you some ideas of how to promote employee referral program at your organization. 
Ready to set up your employee referral program? It's easy with Hireology. Schedule a demo today to see how Hireology's recent acquisition can make your hiring process even more streamlined, and help you get the best ROI of any applicant sourcing channel.