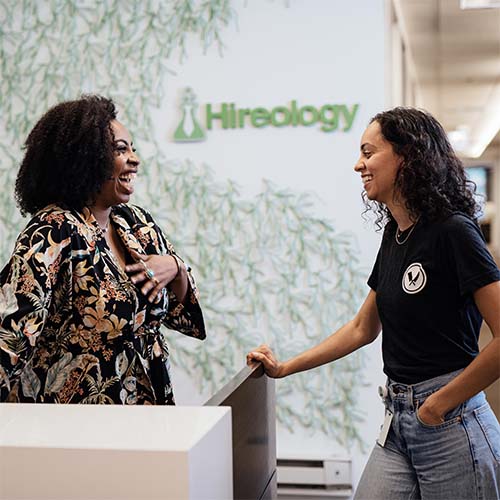 Screening and Evaluating Candidates
Quickly and easily screen applicants to ensure you're getting top talent
Screening and Evaluating Candidates - Hireology
Everything you need to build your best team
Hireology gives you the process and tools to attract top applicants, hire the right candidate and onboard with ease.
Screening and Evaluating Candidates - Hireology
A hiring process your team and candidates will love
Enterprise-caliber solutions connect you with your team and applicants to provide an incredible candidate experience.
Hire with confidence in our all-in-one platform
Businesses across all industries rely on Hireology to execute a human-centered hiring and people management process that works.
What our customers are saying

"I love everything about this platform. One of my goals is to run an agency with a post-pandemic view in mind. That means maxing out on paperless, electronic, virtual, and remote capabilities. Hireology allows me to do this effortlessly from my phone."
"Before Hireology, we had an outdated and inefficient hiring process. We now have a consistent and compliant process that allows us to make decisions backed by data to hold hiring managers accountable."
Human Resources Director |
Lincoln Park Zoological Society
"The customer success team at Hireology routinely takes the time to review applicants live with me. Getting a second set of eyes on my pipeline, in addition to learning techniques to save time, is the kind of customer experience I am looking for as a business owner."
Alphagraphics- Irving, TX
"Prior to hireology we were tracking all recruiting efforts across our 50 locations with an Excel spreadsheet. We were recruiting with blindfolds on, utilizing free local job boards and managing applicant pools out of our email inboxes. Since partnering with Hireology in 2016 we have redefined recruiting for Fox Motors."
Talent Development Manager |
"Hireology took our hiring platform out of a Google Sheet and into a sustainable platform."
Executive Administrator |
Learn how Hireology can help you attract and hire talent fast
Screening And Evaluating Candidates
As you go through the process of hiring new talent to your organization, it's imperative to keep the process moving. In many cases, that's easier said than done because of the amount of manual processes involved in hiring. Screening and evaluating candidates takes up a lot of time, especially without a great software in place. It's difficult to vet candidates without a pre-screen process, so you and your HR team end up reviewing every application that's submitted. Many organizations have dozens if not hundreds of open roles, so sifting through each one of those applications takes a tremendous amount of time. 
That's why it's important to implement a screening method in your hiring process. That way, you can drastically speed up the screening process in HR so that your team can focus on setting up interviews for only the top applicants that fit the desired qualifications. This ensures that your hiring manager can make strategic hiring decisions with each new employee they bring on. 
So what's included in the screening and candidate selection process in HRM? To name a few, pre-screening surveys, applicant resume review, preliminary interviews and in-depth interviews, and background and reference checks all fall under the employee screening process. We've created this blog to outline the importance of candidate screening, how you can implement it at your organization, and what tools you can use to ensure your hiring process is running smoothly. 
What is preliminary screening?
You may be wondering what is preliminary screening and why does my organization need to do it? The initial screening meaning is putting a process in place — like a pre-screen survey that asks very specific and factual questions about the role requirements, like "do you have a driver's license?" — that allows you to automatically disqualify candidates that aren't the right fit for the role they're applying for. Pre-screening surveys are customizable and can make your process more efficient. There are several additional benefits to implementing preliminary screening in selection process. Here are just a few: 
You'll be able to automatically cut your candidate pool to only allow in qualified talent. 
You'll save your HR team hours upon hours of reviewing applications that don't match your role requirements.
You'll be able to speed up your hiring velocity — that is, the time it takes your organization to hire a new employee. 
Without a screening and selection process in place, you're likely costing your organization valuable time and great hires, because top talent is scooped up quickly. With great hiring and recruitment software, pre-screening surveys are built right into the applicant experience. Once an application is submitted, the applicant receives an email with a quick survey that asks straightforward questions that ensure the applicant is qualified. If the applicant answers the questions correctly, their application and resume are sent to your HR team. If they don't have the necessary qualifications, they are automatically removed from the hiring process so that your team doesn't have to waste time looking over their application.  
Phone interviews with your recruiter or a member of your HR team can also be a great time for preliminary screening. For instance, your recruiter can ask candidates about their salary expectations, when they're available to start, and ask more general questions about their background before submitting the candidate to the hiring manager.

Initial screening questions
The first step in putting a screening process in place is to create a list of initial screening questions that allow you to capture an applicant's qualifications before they go through the more formal steps in the candidate selection process.
Your pre-screen survey can be issued in the form of a candidate assessment form, or an email questionnaire that they can submit online.
Here's a list of some initial screening questions you can ask either in a pre-screen survey sent to an applicant after they apply, or a phone screen interview: 
Pre-screen survey questions: 
Are you able to work in the United States?
Do you have XX years of experience? 
Are you above the age of 18? 
Do you have a driver's license? 
Phone interview questions: 
Are you currently interviewing with other companies?
What are your expectations for salary?
Why are you looking to leave your current position? 
What about this role appeals to you?
Walk me through your resume and background. 
What excites you about working here?
These questions will help you identify a candidate's fit in a couple of different ways. First, you'll be able to see their qualifications in the pre-screen survey. Second, you'll get a deeper understanding of their background and personality from the phone screen. 
You can use these questions to create a recruitment and selection process example sheet for your hiring managers and HR team so they know what the process is like and they can base their questions off of it. 
Candidate screening tools
When deciding on the right candidate screening tools for your organization, make sure you're looking at your options and developing a plan for what would work best for your business. Top talent assessment tools will help you separate the best candidates from the rest by using a variety of screening tools. Some businesses opt for resume review software that searches for certain keywords or phrases, but formatting issues can cause great applicants to be discarded. It's not part of an effective selection process, so make sure your screening still involves humans. For example, creating a pre-screen survey in Hireology allows you to customize your survey for each role, create automatic disqualifier questions, and format the percentage amount an applicant must get to move on in your hiring process. 
On top of that, Hireology has built in interview templates that give you options for questions for every interview, including your phone screen. These questions are completely customizable, and allow you to score the candidate as they respond and leave interview evaluation comments for your other team members to review. Skills tests are also included in the platform, which allow you to test applicants in a more granular fashion. 
Additionally, Hireology offers built in reference and background checks. You can send automatic reference checks so you don't have to worry about chasing down these individuals. This includes reminder emails as well, making the process even quicker. And our background checks include a 9-panel drug screen, DOT-HHS mirror drug screen, a federal criminal search, and more options for screening your applicants.
Methods for screening candidates
Choosing which methods for screening candidates work for your hiring process is simple. Look at the various assessment tools at your disposal, choose how long you'd like your process to be, and narrow your selection down based on price and features. Look for a hiring or HR software that includes skills assessment tools, interview guides, skills tests, and reference and background checks to make sure you're checking all the candidate verification boxes.
Additionally, some software even helps with evaluating candidates after interviews. Typically, a team gets together after each interview to discuss what they liked and didn't like about a certain candidate. With Hireology, each person associated with a role can login to see what other interviewers thought of a candidate. Based on the real-time rating system, a percentage is generated to give a very tangible measure of how a candidate did. That way, your team doesn't have to spend valuable time talking through what they did or didn't like about a candidate, and you don't have to remember all of your points down the road. They are all logged in the system for easy reference. 
Examples of interview feedback for unsuccessful candidates
When a candidate inevitably isn't the right fit for a role, it's important to issue a follow up email or a phone call that explains why they weren't selected. It's important to not leave the candidate hanging or hope they will just get the hint, because 71% of applicants surveyed in our State of Hiring report said they would feel negatively about a company that didn't follow up after an interview — and according to another survey, 84% of candidates will tell their friends and family about a negative interview experience. So following up ensures that your candidate understands why they weren't chosen, and gives them room to improve their skills and potentially apply again down the line. 
Some tips for giving feedback are as follows:
Follow up sooner rather than later
Be personal
Be grateful that they took the time to interview with you
Use your interview notes or candidate evaluation worksheet as reference so you can give specific examples and feedback
Don't be too negative
Leave the door open for them to apply in the future
If they reply with further questions, make sure you get back to them
Here are some examples of interview feedback for unsuccessful candidates that you can use: 
Dear XX,
Thank you so much for taking the time to interview with us last week. We really appreciate your  skills in XX and XX, but we are looking for a candidate who has a little bit more experience in XX field. We'd love to keep in touch and if you see a role that better aligns with your experience, please feel free to reach out. We sincerely appreciate your interest in our organization and again want to thank you for your time. 
Best,
XX
______
Dear XX,
Thank you for coming in to meet with us about XX position. We sincerely appreciate your great interest in joining our team, and we enjoyed speaking to you.
Although your qualifications, skills, and work experience in XX field are impressive, we selected a candidate we believe more closely matches the requirements of the position.
We want to thank you for your time and effort and hope you will consider us again and apply for any open positions with our company in the future. 
Best,
XX 
If you're looking for more help with screening and evaluating candidates, reach out to us at Hireology. Our all-in-one solution can transform your entire hiring process and help you hire faster. In fact, our customers' average time to hire is 22 days. Schedule a demo today to see how we can help.