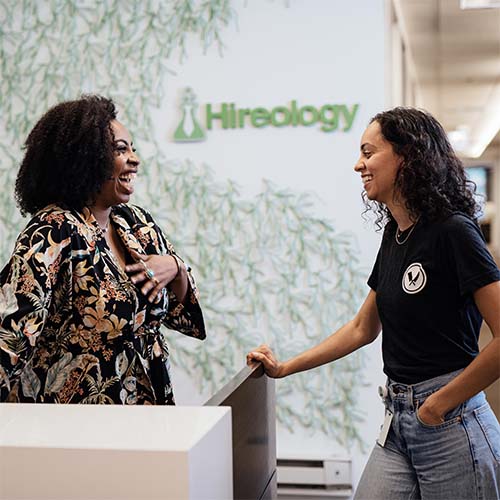 Give your HR team some relief with great recruitment platforms that make your processes run smoothly
Recruitment Platforms - Hireology
Everything you need to build your best team
Hireology gives you the process and tools to attract top applicants, hire the right candidate and onboard with ease.
Recruitment Platforms - Hireology
A hiring process your team and candidates will love
Enterprise-caliber solutions connect you with your team and applicants to provide an incredible candidate experience.
Hire with confidence in our all-in-one platform
Businesses across all industries rely on Hireology to execute a human-centered hiring and people management process that works.
What our customers are saying

"I love everything about this platform. One of my goals is to run an agency with a post-pandemic view in mind. That means maxing out on paperless, electronic, virtual, and remote capabilities. Hireology allows me to do this effortlessly from my phone."
"Before Hireology, we had an outdated and inefficient hiring process. We now have a consistent and compliant process that allows us to make decisions backed by data to hold hiring managers accountable."
Human Resources Director |
Lincoln Park Zoological Society
"The customer success team at Hireology routinely takes the time to review applicants live with me. Getting a second set of eyes on my pipeline, in addition to learning techniques to save time, is the kind of customer experience I am looking for as a business owner."
Alphagraphics- Irving, TX
"Prior to hireology we were tracking all recruiting efforts across our 50 locations with an Excel spreadsheet. We were recruiting with blindfolds on, utilizing free local job boards and managing applicant pools out of our email inboxes. Since partnering with Hireology in 2016 we have redefined recruiting for Fox Motors."
Talent Development Manager |
"Hireology took our hiring platform out of a Google Sheet and into a sustainable platform."
Executive Administrator |
Learn how Hireology can help you attract and hire talent fast
Recruitment Platforms
Recruitment platforms help you keep your hiring process on track and hire your new employees faster. But they can do much more than just keep you organized. They can help you keep in touch with candidates, collect documentation, automate your recruitment process, manage payroll and employee benefits, and much more. 
The online recruitment software you choose to invest in has the potential to help you hire great team members and drive efficiency across your entire organization. It may seem like a small thing, but investing in great HR tech is one of the best ways to get quality talent to drive your business forward. 
Some companies look to AI recruitment software when they are searching for a hiring tool thinking that will help hire even faster, but AI software has its fair share of biases due to the lack of human decision-making. Your best bet for recruitment marketing automation is investing in a quality recruitment platform that has built-in automation to make your process run smoothly. Things like prescreen questions and candidate verifications can be automated without causing issues and can help ensure that your HR team is only reviewing quality applicants. In this article, we'll talk about the different types of recruitment platforms, what makes a quality system, how to build a recruitment marketing strategy and the difference between platforms built for small and large companies. Read on to get a better handle on HR tools before deciding on which platform to choose for your business. 
Best Recruitment Platforms
With so many different types of recruitment platforms available with various capabilities, it may feel overwhelming to try to navigate the market on your own. But don't fret, we can summarize the differences between a good recruitment platform and the best recruitment platforms.
The best hiring platforms will go above and beyond simply improving the speed at which you recruit. Of course, that's a necessity, but that's just scratching the surface of what a great platform is capable of. With the right recruitment CRM, you will be able to automate the most manual parts of your hiring process, stay organized during and after the recruitment process concludes, and even manage your post-hire processes. Hireology, for example, has in-platform tools to help you automate your process, communicate with candidates, conduct applicant interviews, issue offer letters, onboard, and run payroll all from one place. No need for constant rekeying of important information that could result in costly errors — instead you can give your HR team hours back to focus on their jobs. And you can get your new hires onboarded much faster than without a digital onboarding program, meaning they'll be able to immediately start driving profit for your business. 
Whether you're looking for the best recruitment software for agencies or a recruitment CRM for your small business, you have to pay attention to the reviews of other industry professionals. If the software works for your type of organization, others will be raving about it. And you'll want to keep in mind a few features of the platform — such as ease of use, customer service, and integration capabilities — when making a decision about which software would be best for you to invest in. 
Hiring Platforms
Hiring platforms that really elevate your hiring process are what you should consider when you begin your search. You want to make sure that your organization can run hiring operations smoothly, move candidates through the hiring process quickly, and get your team onboarded as soon as possible, especially during the current hiring climate that we're in. Hiring is more difficult than ever, and when you find the right candidate, you don't want them to get snatched up by your competition, simply because you didn't have the technology or manpower to move them through the process more quickly. 
That's why it's important to invest in a great hiring platform that actually helps your hiring process work better and faster. The difference between free recruitment software and a tried and true, reasonably priced system is huge. There are a number of reasons that free recruitment platforms may sound appealing — most of all the price — but in reality, free software often is masquerading as something that it's not. Either the functionality is limited, meaning you'll have to spend more in other areas to make up for it, the ease-of-use is non-existent, or there are in-platform upgrades and pesky contracts that lock you into a system that won't solve your hiring issues. 
When looking at recruiting tools sourcing, you should consider price, of course, but opting for free software will only make you have to start your search all over again a few months from now. Think about the problems you're looking to solve — like payroll management, hiring speed, prescreening and communicating with applicants, an employee referral program — and find a product that has a true all-in-one offering. Some may look into a recruitment marketing agency, but that can get pricey and be more frustrating than taking the operations in-house. 
Recruitment Marketing Strategy
The hiring platform you look for should tie directly into your recruitment marketing strategy, and in fact, make it even better. 
Your recruitment marketing strategy should include: 
Defined and measurable goals
Content that appeals to your personas
Optimized career site
Social media engagement 
You want to find a system that helps support this strategy and helps you reach your goals and objectives, but also calls out things you may have missed or overlooked. With Hireology's insights and analytics, you can see where gaps in your strategy are, where your team is moving slower, and where you should focus your efforts. The reporting will give you a better understanding of your strategy as a whole and a clear picture of your strengths and weaknesses. This can be monitored across teams, and even across your other locations. 
These types of helpful recruitment tools and techniques give you a lot more information about how your team is performing when it comes to hiring, and you'll be able to compare yourself with others in the industry to make sure that you're staying competitive. 

Recruiting Platforms For Small Business
Recruiting platforms for small businesses may have different capabilities than what's needed for larger-scale operations, but that doesn't mean you don't need to find a platform that offers robust capabilities. You still need a platform that increases the speed at which you hire, saves your HR team time, keeps candidates engaged, helps you stay organize, and works with your other software.
Some online hiring platforms boast capabilities that they don't end up offering, especially in the case of free recruitment tools. They may claim to have all of the requirements your looking for, but oftentimes, they are trail versions, or have tricky contracts that end up costing you more in the long run. 
Top recruiting platforms offer transparent pricing, along with capabilities that actually benefit your HR team, like automated reference and background checks, pre-screen surveys, interview guides, candidate communications, an employee referral program, and payroll. These are just a few of the offerings that Hireology's all-in-one system provides, and is considered a best recruiting software for small business contender. On average, Hireology customers save 21 hours per week, have a 16% reduction in turnover, and an annual ROI of $23,000. 
It's not a toss up — Hireology offers the best people-first candidate management software that helps make your hiring process faster and more efficient.
Talent Acquisition Software
As mentioned, quality talent acquisition software shouldn't be hard to find, and you shouldn't be locked into contracts that don't help you improve your hiring process. Sometimes it's hard to tell what will offer the best return on investment for your business, or what programs actually live up to what they say they can do. It's best to seek out reviews from other industry professionals, as well as see demos of products and services you plan to purchase before making your decision. That way, you can guarantee that a product will work for you. Additionally, you should ask about implementation and training, and search for reviews about customer service teams. This can make all the difference when you run into system issues. 
There are plenty of options on the market. Here's a list of the top 10 recruiting tools around: 
Hireology
LinkedIn Recruiter
SmartRecuriters
The Muse
Greenhouse
Yello
Lever
Workday
ADP
Indeed
The difference between these companies and Hireology is tha Hireology is the only all-in-one solution that provides you with pre- and post-hire management from one location. While these platforms offer solutions to singular or a few problems related to hiring, they don't have the vast capabilities and integration network that Hireology does. 
So if you're looking for an all-in-one talent acquisition software that will save your HR team a tremendous amount of time, look no further than Hireology. Other recruitment marketing platforms just don't cut it. 
Ready to see Hireology's all-in-one platform in action? Schedule a demo today to learn more and see the difference that putting your people first can make.