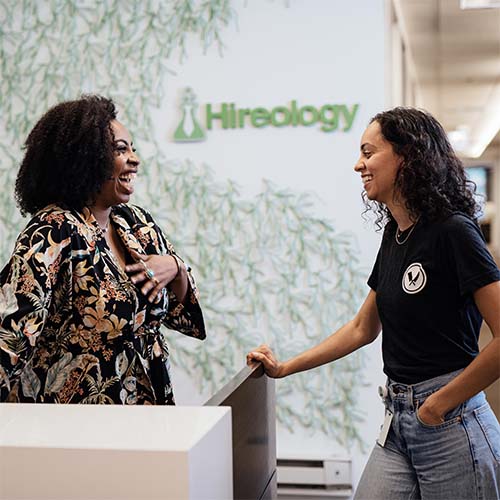 Tips and tricks on how to lead a great interview
Interview Guide Example - Hireology
Everything you need to build your best team
Hireology gives you the process and tools to attract top applicants, hire the right candidate and onboard with ease.
Interview Guide Example - Hireology
A hiring process your team and candidates will love
Enterprise-caliber solutions connect you with your team and applicants to provide an incredible candidate experience.
Hire with confidence in our all-in-one platform
Businesses across all industries rely on Hireology to execute a human-centered hiring and people management process that works.
What our customers are saying

"I love everything about this platform. One of my goals is to run an agency with a post-pandemic view in mind. That means maxing out on paperless, electronic, virtual, and remote capabilities. Hireology allows me to do this effortlessly from my phone."
"Before Hireology, we had an outdated and inefficient hiring process. We now have a consistent and compliant process that allows us to make decisions backed by data to hold hiring managers accountable."
Human Resources Director |
Lincoln Park Zoological Society
"The customer success team at Hireology routinely takes the time to review applicants live with me. Getting a second set of eyes on my pipeline, in addition to learning techniques to save time, is the kind of customer experience I am looking for as a business owner."
Alphagraphics- Irving, TX
"Prior to hireology we were tracking all recruiting efforts across our 50 locations with an Excel spreadsheet. We were recruiting with blindfolds on, utilizing free local job boards and managing applicant pools out of our email inboxes. Since partnering with Hireology in 2016 we have redefined recruiting for Fox Motors."
Talent Development Manager |
"Hireology took our hiring platform out of a Google Sheet and into a sustainable platform."
Executive Administrator |
Learn how Hireology can help you attract and hire talent fast
Interview Guide Example
If you've ever conducted or been part of an interview, you know it can be an incredibly stressful situation. Preparing interview questions to ask, ensuring that you're engaging with candidates, and even distinguishing a great candidate from a good one can be challenging. And as a candidate, interviews are your chance to show why you'd be the best fit for a role, which definitely can feel daunting. But with a little preparation, you can become an interview expert. 
The best way to prepare for an interview is to reference an interview guide. The advantages of interview guides are numerous: it can tell you how the flow of an interview should go, give you examples of questions to ask and what quality answers will sound like, give you interview dos and don'ts including body language, time management, and note-taking. 
Here's an interview guide example outline for someone conducting an interview: 
How to prep for an interview

Look at the interviewee's resume and portfolio
What to wear to an interview

How to start an interview

Establish common ground
Topics to avoid
Take notes during the interview
Keep engaged

Types of questions to ask 

What questions to ask to get to know a candidate's personality
What questions to ask to get a candidate to think critically
What questions to ask to get a sense of a candidate's work style
Illegal interview questions to stay away from

How to conclude an interview

Give the interviewee time to ask questions
Level set expectations around next steps and timing
Thank the candidate for coming
In each of these sections, your interview guidelines for employers should be clear and comprehensive to help avoid any trouble and remain as unbiased as possible. 
And here's an example outline of a candidate's interview guide:
How to prep for an interview

Research the company
Research the interviewer
Run through sample questions that you may be asked
Come prepared with questions to ask
Practice eye contact
Show up between 10-15 minutes early

Answer questions that are asked of you

Answer each question to the best of your ability
Keep your responses concise but make sure to elaborate when necessary
Draw on real examples so that you can back up what you're saying
Maintain eye contact and remain engaged
Keep it conversational
Remember, you're vetting the company too!

Concluding an interview

Ask your prepared questions and any lingering questions
Thank the interviewer
Ask about next steps 
Follow up with an email to your interviewer
As you can see, a lot goes into an interview on both sides of the table. Let's take a deeper dive into how hiring managers can prepare for an interview, including interviewing techniques for managers.
Interview guide questions
When it comes to the questions you should ask in an interview, look to online forums or your internal HR software for examples. Hireology has a built in interview guide for each of your different types of interviews. The guide is customizable and ensures that you're removing biases from your interview process. 
But if you don't have a quality HR software like Hireology, type into your search engine "What are the 10 most common interview questions and answers?" followed by the industry you are in. This will give you some helpful ideas on what types of questions to ask. 
You can also research interview guide templates online to get an idea for how to create your own interview templates that you can share with your hiring team. This template should include interview guide questions for your team to ask. 
Here are some basic interview questions and answers that you can insert into your interview guide: 
Walk me through your background.
This question is of course subjective, but ask them to elaborate on any areas that aren't super clear on their resume. Pay attention to how they talk about each role and if they have a neutral or positive outlook, because you don't want an employee who only has negative things to say about their former roles.
2. What makes you interested in this role?
Sample answer: I've been working in the field for several years and feel that this role would be a great next step for me. I am especially excited about the challenge it will present, and think it's a great growth opportunity for me.
3. Why do you want to work for this company?
Sample answer: I really appreciate the mission of your company and the core values that you live by. I am looking for a company with a great culture that is known to serve its customers well, so that's why I'm excited for this opportunity in particular.
4. Tell me about a challenge you had to overcome at work.
This answer can involve any type of work situation, but pay attention to how they resolved or overcame the challenge. 
5. What are your three biggest strengths?
Sample answer: I'd say my biggest strengths are my organization, drive, and dependability.
6. What's your biggest weakness?
Sample answer: I try to avoid conflict as much as possible, so sometimes that turns into an issue. I've been working on it by trying to be upfront with my peers and coworkers so conflicts don't arise. 
7. What are some qualities that you expect of senior leadership?
Sample answer: I appreciate transparency and an open door policy. I don't want to feel like I'm a cog in a machine, so it's important to me that leadership provides insight into why our company makes certain decisions and how we set our goals, along with how we are tracking to those goals. 
8. What is your preferred work environment?
Sample answer: I love working alongside other team members. I get energized by collaboration and thrive when ideas are freely exchanged. 
9. Tell me about a time when you had to help an unhappy customer.
This answer should detail the solution. Customers can be unhappy about things that are completely out of an employee's control, but it's how they deal with the disgruntled patron that matters.
10. What are some of your hobbies outside of work? 
This is more of a get to know you question that allows you to establish some common ground. 
11. What aspects of this role appeal to you most?
This question gives you insight into how much research they've done on your company and the role in general.
12. Where do you see yourself in five years?
Sample answer: I want to be at a company that's finding ways to push the envelope and in a position where I feel I am directly contributing to the business outcomes. Being a process or people manager excites me and I know I have the chops for it. 
13. Why are you wanting to leave your current role?
This answer should again be neutral or positive. If the candidate mentions ill will between their boss or fellow employees, it could be a red flag. The ideal answer is looking for a more challenging environment or one that provides more growth opportunities.
These short interview questions and answers will help you evaluate a candidate's personality and qualifications for the role. You can mix up the order, but it's best to start with the candidate giving a brief overview of their work experience. 
In depth interview guide sample
When you're choosing between the type of interview you want to conduct, you should look at your recruitment process as a whole. Oftentimes, a less formal interview will occur over the phone with a recruiter for initial screening. These interviews explain the role expectations, salary and benefits offered, and the requirements of the role to ensure the candidate is a fit. 
That's followed by a more in-depth interview with the hiring manager. The advantages of in-depth interviews are plenty: you get a better sense for a candidate's fit, you can see if the candidate would add to your culture, and you can get a better grasp of their soft and hard skills. 
There are several types of in-depth interviews including culture add interviews, skills interviews, and leadership interviews. Each of these has a different role in finding out more information about the candidate and evaluating them on a different level. 
During interview training for hiring managers, you can discuss the importance of each of these interviews, along with how to remain as unbiased as possible throughout the process. You can issue an interview guide for hiring managers so that they know what types of interviews your company holds and what will be expected of them if they are asked to participate in a certain one. 
An in-depth interview guide sample would likely outline the purpose of each interview and who would be in charge of leading it. In Hireology, each interview is also given a scorecard and a notes section so you can rate the candidate as you go through the process. This gives the HR team and the rest of the hiring team insight into what each interviewer thought of the candidate to help speed the process along. 
Want to see how Hireology can help streamline your entire recruiting process, including your interviews? Schedule a demo today.