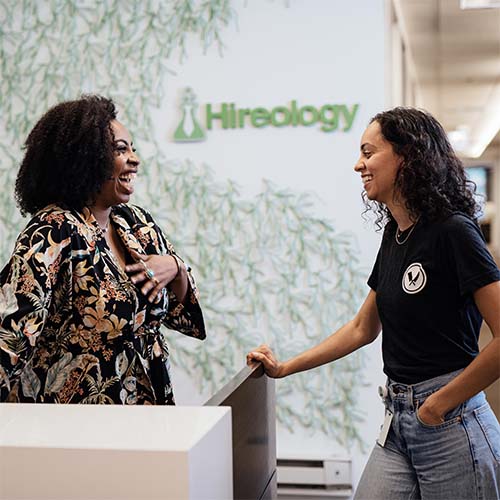 The importance of employee referrals in recruitment and how Hireology can help you build a great employee referral program
Importance of Employee Referrals in Recruitment - Hireology
Everything you need to build your best team
Hireology gives you the process and tools to attract top applicants, hire the right candidate and onboard with ease.
Importance of Employee Referrals in Recruitment - Hireology
A hiring process your team and candidates will love
Enterprise-caliber solutions connect you with your team and applicants to provide an incredible candidate experience.
Hire with confidence in our all-in-one platform
Businesses across all industries rely on Hireology to execute a human-centered hiring and people management process that works.
What our customers are saying

"I love everything about this platform. One of my goals is to run an agency with a post-pandemic view in mind. That means maxing out on paperless, electronic, virtual, and remote capabilities. Hireology allows me to do this effortlessly from my phone."
"Before Hireology, we had an outdated and inefficient hiring process. We now have a consistent and compliant process that allows us to make decisions backed by data to hold hiring managers accountable."
Human Resources Director |
Lincoln Park Zoological Society
"The customer success team at Hireology routinely takes the time to review applicants live with me. Getting a second set of eyes on my pipeline, in addition to learning techniques to save time, is the kind of customer experience I am looking for as a business owner."
Alphagraphics- Irving, TX
"Prior to hireology we were tracking all recruiting efforts across our 50 locations with an Excel spreadsheet. We were recruiting with blindfolds on, utilizing free local job boards and managing applicant pools out of our email inboxes. Since partnering with Hireology in 2016 we have redefined recruiting for Fox Motors."
Talent Development Manager |
"Hireology took our hiring platform out of a Google Sheet and into a sustainable platform."
Executive Administrator |
Learn how Hireology can help you attract and hire talent fast
The Importance Of Employee Referrals In Recruitment
Employee referrals likely hold more potential than you are aware of. 
The importance of employee referrals in recruitment isn't solely about spreading the word about your open roles. There are many more compelling reasons why establishing an employee referral program is essential to your company's bottom line. 
But first, I'll explain the employee referral definition and why so many employers are establishing an employee referral program. 
An employee referral is any candidate that is submitted for an open role at your organization by an existing team member. This usually happens because of an established employee referral program, which can offer bonuses or incentives for employee participation. 
There are clear and measurable benefits to setting up an employee referral program that makes the importance of employee referrals clear. Here are just a few reasons you should consider implementing one if you don't already have one in place:
Employee referrals are four times more likely to get hired
45% of employee referrals stick around for over four years, compared to only 25% of job board sourced employees who stay for two years
Employee referrals have the best return on investment from any other candidate sourcing avenue
So now that you understand the business case for why an employee referral program is necessary, we want to help you set one up, because employee referrals as a recruitment strategy is a surefire way to get top talent. 
This blog will detail different ideas of effective employee referral programs, some of the pros and cons of the program to look out for, and how to structure your program's bonus plan. 
Employee referral advantages and disadvantages
There are plenty of employee referral benefits, in addition to those listed above. Additional benefits of employee referral programs include the ability to increase your retention, improve your organization's culture, and create customer loyalty.
But it's important to note the things to look out for with employee referral programs as well. If a program is not executed correctly, some potential employee referral disadvantages include:
a culture issue: if your employees only refer other applicants that are similar to them, you're not adding to your culture, and you could run into issues with cliques or a general lack of diversity. 
applicants that aren't a good fit: your employees may start referring peers that don't have the right experience, which wastes your HR team's time. Clear guidelines will help prevent this from happening. 
employees leaving as soon as they get their bonus: without a payment structure in place, you may see issues with employees leaving as soon as their bonus comes in
new hires quitting: along the same lines, you may see new hires quitting immediately or simply not showing up for their job.
These employee referral advantages and disadvantages can be mitigated by creating solid rules for your program. We'll go over what you should consider when building your program below. 
Employee referral bonus
So as you begin to draw up your employee referral program, you have to follow these four steps: 
Figure out who is eligible to participate in your employee referral program.
Hiring managers and your HR team should be excluded from your program because finding talent is part of their job. Reserve bonuses for employees that don't have to recruit as part of their role. 
Establish if there will be an employee referral bonus.
We recommend creating an incentive to drive participation from your staff, but it doesn't have to be a monetary amount. You can offer additional paid time off, gift cards, or any other bonus that will get your staff excited about submitting referrals. 
Decide on employee referral bonus amounts.
Some roles at your organization may be much more difficult to fill than others, so consider creating a tiered system of bonus payout to difficulty of the role filled. Senior leadership roles, for example, should receive a higher referral payout than entry-level positions, simply because the skill set of that management position is likely much harder to come by. 
Create an employee referral bonus policy and timeline. 
Establish what the stipulations for receiving a payout for an employee referral are to mitigate employees leaving directly after receiving their payout. Make it clear that an employee must be employed at the time the referral comes on board, and consider breaking payments into two lump sums, one on the referral's first day, and one after a few months of employment. This will incentivize both employees to stick around.  
Here are some employee referral bonus examples that you can structure your roles around: 
Tier 1: non-technical roles – $250 bonus, half paid on referral's first day, half paid after three months of referral employment
Tier 2: manager-level roles – $500 bonus, half paid on referral's first day, half paid after three months of referral employment
Tier 3: hard-to-fill roles – $1000 bonus, half paid on referral's first day, half paid after three months of referral employment
Hiring through referrals
Hiring through referrals will help improve the quality of your candidates and retention of your staff, but how do you establish a process of tracking and actually making hires through your referral program? 
Hireology's recent acquisition of EmployUs, an employee referral software, makes this process a breeze. Your employees can simply scan a QR code with their mobile device that's unique to your business. They'll then be directed to fill out a short survey about the referral they'd like to submit — simple questions like why they'd be a good fit and what their name and email is. That's all that's required of your employees, and your HR team doesn't have to track referrals manually in an excel spreadsheet. Everything is handled automatically in Hireology, and candidates that have been referred are marked in the platform. 
Then, your employees can track their referral submission throughout the hiring process, and can opt to receive text alerts when their candidate is moved along. This makes it easy for employees to check progress and gives them a solid idea of when their bonus will be coming. 
With this acquisition, Hireology can improve yet another facet of your hiring process. 

Employee referral example
As you are putting together your employee referral program, you can look to other organizations for examples of ways to enhance your process. Here are some employee referral examples from some top companies that have proven effective at bringing on top talent:
Pinterest
Pinterest found that although employee referrals were a great source of top talent, it turned out that most of their top employees' networks were homogenous. As a result, the organization became less diverse over time. To combat this, the company used its regular internal messaging campaigns to prompt employees to focus on women and underrepresented groups. This simple reminder to prioritize more diverse talent resulted in a 55x increase in the percentage of candidates from underrepresented ethnic backgrounds.
Google
Google plants the employee referral seed from the very beginning of the new hire's journey. During employee onboarding, they ask their new staff members to name ten people they'd love to work for again and xx. They know that great employees know other great employees, and they want to capitalize on that as quickly as possible. 
Hireology
Hireology has just acquired EmployUs, an employee referral software, and while our employee referral program was great before, we now have the ability to automate the process, saving our HR team time and making it as easy as possible for our employees to submit a referral. They simply have to scan a QR code, fill out a short questionnaire about the candidate they are referring, and that's it! They can then track the progress of their referral by signing up for text alerts of when their application is moved along in the process.
These sample employee referral programs can help you create your structure and hopefully give you some employee referral program ideas to make yours all the more effective. 
How to promote employee referral program
So you've created your employee referral policy. Now the final step is to figure out how to promote an employee referral program around your office. The employee referral program communication is just as important as the initial planning because if your staff doesn't know about the program, they of course won't submit any referrals. 
With that in mind, draw up a plan for both initial and continued communication. You can host an all-company meeting to explain the details of your program thoroughly to all of your employees. During the meeting, put emphasis on the requirements and the bonus payout so that your staff understands why they should be excited about the program. 
Then on an ongoing basis, consider highlighting a new role each week. You can go through the basic role requirements, describe the ideal candidate, and then once again remind your team of the payout if they refer someone who is hired. 
You can also have a designer create an eye-catching employee referral bonus flyer that you can hand out to your employees or post around the office. That way, there will be a permanent call to action about the program. 
With Hireology, you can set up an easy-to-use employee referral program that will get your team excited about submitting their friends, former coworkers, or family members for your open positions. If you'd like to learn more about Hireology's recent acquisition of EmployUs, or see our all-in-one platform in action, reach out to us to schedule a demo today.