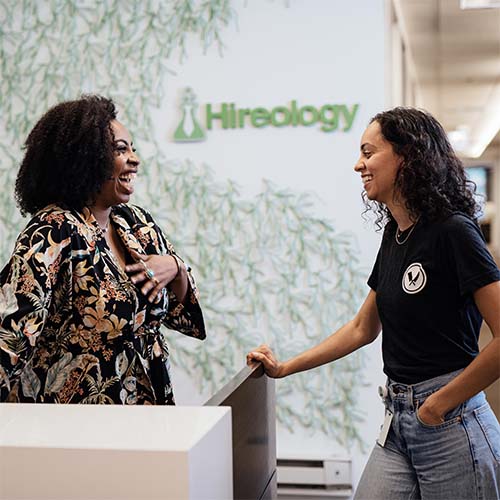 Manage your HR and payroll processes from one intuitive platform
HR Payroll Software - Hireology
Everything you need to build your best team
Hireology gives you the process and tools to attract top applicants, hire the right candidate and onboard with ease.
HR Payroll Software - Hireology
A hiring process your team and candidates will love
Enterprise-caliber solutions connect you with your team and applicants to provide an incredible candidate experience.
Hire with confidence in our all-in-one platform
Businesses across all industries rely on Hireology to execute a human-centered hiring and people management process that works.
What our customers are saying

"I love everything about this platform. One of my goals is to run an agency with a post-pandemic view in mind. That means maxing out on paperless, electronic, virtual, and remote capabilities. Hireology allows me to do this effortlessly from my phone."
"Before Hireology, we had an outdated and inefficient hiring process. We now have a consistent and compliant process that allows us to make decisions backed by data to hold hiring managers accountable."
Human Resources Director |
Lincoln Park Zoological Society
"The customer success team at Hireology routinely takes the time to review applicants live with me. Getting a second set of eyes on my pipeline, in addition to learning techniques to save time, is the kind of customer experience I am looking for as a business owner."
Alphagraphics- Irving, TX
"Prior to hireology we were tracking all recruiting efforts across our 50 locations with an Excel spreadsheet. We were recruiting with blindfolds on, utilizing free local job boards and managing applicant pools out of our email inboxes. Since partnering with Hireology in 2016 we have redefined recruiting for Fox Motors."
Talent Development Manager |
"Hireology took our hiring platform out of a Google Sheet and into a sustainable platform."
Executive Administrator |
Learn how Hireology can help you attract and hire talent fast
HR Payroll Software
Every business needs a system in place to pay their employees, and today's platforms need to do more than simply cut checks to prove their value. If you've ever run payroll, you know it can be an incredibly arduous task, full of manual processes and repetitive entry that leaves room for errors. But with the right payroll software program, you can relieve yourself or your HR team of the strain and costly mistakes associated with a laboring payroll process.
When shopping for a new payroll platform, there are many HR and payroll software companies to choose from to make sure that your process is smooth and consistent. Payroll-related costs can account for 50% of total business expenses, so it's important to invest in a system that virtually eliminates pricey errors that manual processes create, as well as one that offers a budget-friendly pricing package. 
While the right HR payroll software will remove the friction from your process as well as save money and time, it can be tricky to navigate which provider is right for your business, as you want a product that can integrate with your current system, perform automatic updates, and is trusted in your industry. 
Additionally, the platform should offer a user-friendly employee self-service portal that your staff can access rather than coming to your HR team for tax documentation or a paystub. This will allow your employees to take control rather than burdening your HR team with these tasks. 
Free HR and payroll software programs may sound like great solutions, but they aren't equipped with these essential elements, or they have hidden fees that will likely cost you more in the long run. That's why it's important to understand what you're paying for and select a system based on your company's unique needs. Luckily, there are plenty of options that won't break the bank and can handle the HR and payroll tasks that you're looking for. 
We've outlined the basics of a great payroll software below and what you should look for when shopping around. And if you'd like more information about Hireology's payroll platform or how our hiring system works as a whole, you can schedule a demo below. 
Types of Payroll Systems
There are different types of payroll software on the market, and each has different capabilities and use cases that make them effective for different businesses.
The two most common types of payroll systems are on-premise and cloud-based or Software as a Service (SaaS) solutions. The main difference between these two options are how they are hosted — the on-premise platform will be physically in your space, only accessible in your office, while the cloud-based solution offers more flexibility as it's all stored in the cloud.
While both are of course capable of running payroll, they have differences in features, HR capabilities, customer support, accessibility, and price, which also will vary company to company. Here are some of the main distinctions between the two.
On-Premise
An on-premise or hosted payroll system is held at the site of operation and usually work best for businesses with over 100 people on payroll. On-premise payroll systems take up physical space, and the hardware can become outdated and need to be updated, and often require a representative to come to your place of work to troubleshoot issues.
Here's a list of payroll systems that are on-premise:
ADP Payroll
Oracle
Gavdi
SAP Payroll
Cloud-Based
Cloud-based payroll systems, sometimes referred to as SaaS payroll, are stored in the cloud, meaning your payroll can be accessed, operated, and controlled from a remote system using an internet connection. With a cloud-based payroll system, issues can be resolved virtually, without a representative having to come in-person, and there's no hardware to worry about, so updates can be done virtually as well.
Here's a short payroll software list of cloud-based options:
Netchex
Paychex Software
Quickbooks Payroll Software
Onpay
Gusto Payroll
Intuit Payroll
While both on-premises and cloud-based payroll systems are popular, cloud-based systems have a few advantages, like efficiency, space saving capabilities, and ease of use from any location. Additionally, cloud-based systems often have an easier time integrating with your current softwares, like your hiring and scheduling systems. This creates a more cohesive process and leaves less room for error. In fact, many of the legacy on-premises systems now provide a cloud-based alternative as well.
Best HR Payroll Software
Many business owners and HR leaders have so many systems in place that they've lost track of how many steps are required to run an effective process, reducing the effectiveness each one provides. As a result of these disconnected and inefficient systems, productivity and profitability take a hit. So when you're looking for a new software of any kind, you should look for one that integrates with your other platforms to make all of your processes run smoothly. 
The best HR software gives you the ability to manage dozens of isolated tasks from one platform. Things like tax reporting, time and attendance, scheduling, and onboarding don't require solitary systems, but oftentimes, that's how businesses operate. Look for a payroll system that speaks to your current processes — like your hiring and onboarding process — so that you're not repeating steps over and over. 
Other great benefits of top payroll softwares include: 
compliance assurance
Industry approval
automatic system updates 
labor cost forecasting
varying pay schedule compatibility
automated tax filing, time tracking, and benefits
premium customer service
comprehensive reporting and analytics
great employee experience
These may just seem like "nice to haves", but these added features come standard with the best payroll platforms, so you should be looking for a comprehensive system that can meet all of these requirements to keep your organization compliant and efficient. 
Lastly, transparent pricing should be a must. Many legacy payroll providers advertise their software as free but they actually have hidden fees and contract lock-ins. Others sell payroll as a package with another software system rather than a stand alone payroll software, but this can cause basic functionality to fall by the wayside, and can potentially lead to you spending more on a system that does less. And beware of whether or not your payroll provider charges per payroll run and if they include added costs for reporting and end-of-year tax forms. These added costs can be hidden with confusing billing language that's difficult to understand, resulting in lost investment.
Instead, look for a provider who offers transparent, per-employee per-month (PEPM) pricing so you can easily plan and forecast your fixed costs and avoid surprising overages as a result of growing your team or requiring new features. Additionally, many modern payroll providers offer tax forms, reporting and unlimited payroll runs in their base packages, which may be more cost-effective than staying with your legacy payroll partner.
Payroll Software for Small Businesses
Small businesses have unique needs that larger institutions may not face. For one, small businesses may not have the manpower to run a full-fledged payroll system from start to finish, so they need an automated system to help fill in the gaps left by low headcount. And, the payroll platforms that service large businesses may be much more feature heavy — and likely more expensive — than your business requires. 
Most payroll software companies don't offer a one size fits all platform, so do your research to find out what tools work best for small businesses and startups. 
When searching for an HR and payroll software for small businesses, look for a payroll service that:
is easy to use and can easily be taught to new employees.
offers features that make your HR team more efficient without hidden fees.
is affordable and comprehensive.
integrates with your other systems.
has an exceptional customer service team to assist with issues. 
has industry and small business operator approval. 
charges per employee per month (PEPM).
has positive reviews.
If your payroll solution isn't ticking these boxes, you may run into issues down the line and have to consider alternatives. It's better to do some research up front to see which payroll systems for small businesses are best and provide the most benefit than to miss out on crucial requirements.
Hireology offers a payroll solution that integrates directly with our hiring platform to securely transfer new hire data to payroll instantly. With Hireology, you eliminate the need for multiple data entries, allowing you to move candidates through the hiring process and right into the payroll system instantly. 
You can manage time and attendance, benefits enrollment, reporting and payroll runs within one powerful system. Our user-friendly cloud-based solution helps to accelerate time to productivity, reduce re-keying errors, provides comprehensive HR and hiring reporting, and centralizes and digitizes required paperwork for easy access. Additionally, our employee self-service portal empowers your team and allows them to take control of their individual payroll needs. 
Interested in learning more about Hireology's payroll solution or our other hiring offerings? You can schedule a free consultation where a member of our team will walk you through how Hireology can help you streamline your HR and payroll processes.