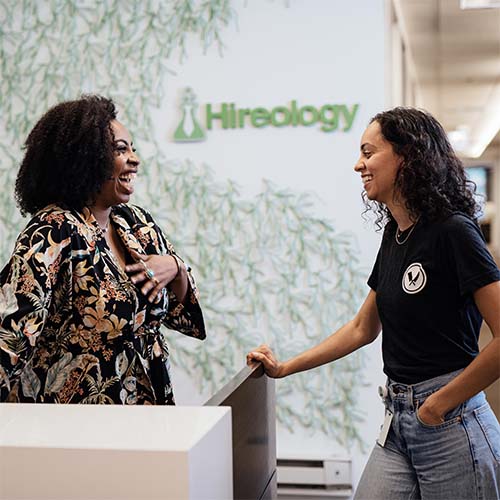 Tips on how to hire your best team based on our 2021 State of Hiring report
Everything you need to build your best team
Hireology gives you the process and tools to attract top applicants, hire the right candidate and onboard with ease.
A hiring process your team and candidates will love
Enterprise-caliber solutions connect you with your team and applicants to provide an incredible candidate experience.
Hire with confidence in our all-in-one platform
Businesses across all industries rely on Hireology to execute a human-centered hiring and people management process that works.
What our customers are saying

"I love everything about this platform. One of my goals is to run an agency with a post-pandemic view in mind. That means maxing out on paperless, electronic, virtual, and remote capabilities. Hireology allows me to do this effortlessly from my phone."
"Before Hireology, we had an outdated and inefficient hiring process. We now have a consistent and compliant process that allows us to make decisions backed by data to hold hiring managers accountable."
Human Resources Director |
Lincoln Park Zoological Society
"The customer success team at Hireology routinely takes the time to review applicants live with me. Getting a second set of eyes on my pipeline, in addition to learning techniques to save time, is the kind of customer experience I am looking for as a business owner."
Alphagraphics- Irving, TX
"Prior to hireology we were tracking all recruiting efforts across our 50 locations with an Excel spreadsheet. We were recruiting with blindfolds on, utilizing free local job boards and managing applicant pools out of our email inboxes. Since partnering with Hireology in 2016 we have redefined recruiting for Fox Motors."
Talent Development Manager |
"Hireology took our hiring platform out of a Google Sheet and into a sustainable platform."
Executive Administrator |
Learn how Hireology can help you attract and hire talent fast
Hiring Tips
Your hiring and recruitment process may be in need of an overhaul. 
With a heavier reliance on technology as of late, many organizations have utilized digital hiring processes when searching for their next employee. Not only is this meant to keep applicants and employees safe, it's to ensure you're meeting candidate expectations, because right now, we're in an Applicant Economy. That is, applicants have more choices than ever before, as there are more open roles across the country than there are people to fill them. 
In our 2021 State of Hiring report, we surveyed nearly 5,000 applicants about their job search expectations and experiences. The results showed that applicant desires have shifted, and it's up to your organization to meet them if you want to attract and retain top talent. 
But don't worry — Hireology is here to help. Based on our report, we've put together some hiring tips to help you improve your hiring process, keep hiring on track, and find and keep quality talent around. We've included how to hire the best candidates, the importance of selecting the right candidate for the job, the hiring process steps you should follow to keep your process moving smoothly, and what to do after your employee is hired. 
And if you're interested in more information around applicant sentiments, read our 2021 State of Hiring report. 
Checklist for hiring employees
It's great practice to create a checklist for hiring employees to keep everything standardized so that each and every hiring manager knows what's expected of them. This checklist can be used for all of your roles, and customized to fit the varying needs of your organization's teams. 
When creating your hiring checklist, think about all the steps that need to be completed by your team as well as on the part of the candidate — like information you'll need to gather to ensure you're hiring the right person for the job, as well as all the legal documents and certifications you'll need to collect to maintain compliance. 
Here's an example of a hiring checklist that will help you hire your next employee: 
Job posting:
Create a job description to satisfy a need at your organization
Determine the qualifications that are necessary for the role, along with compensation and benefits 
Post the job description on job boards, your career site, and social channels
Applicant screening:
Administer pre-screening tests to applicants once they've submitted their application
Schedule phone screen interviews, followed by virtual and in-person interviews with qualified applicants
Issue skills tests to ensure that applicants have the essential skills for the role
Submit reference check requests 
Run background checks
Hiring decision: 
Make your selection decision
Extend an offer letter
Post-hire:
Collect necessary tax and banking information
Administer new hire paperwork
Structure your onboarding process
Enroll your new employee in your payroll and scheduling software
While these steps may vary slightly from company to company, they provide a general outline for you to follow throughout your hiring process. Some additional things to keep in mind include the ease of your application process for job seekers, the importance of frequent communication with top talent, and digital onboarding steps for your new hires. These are all vital considerations that matter a great deal to job applicants, so prioritize them. 
How to improve recruitment strategies
You may have some solid processes already in place, but there are likely small improvements you can make to get even more eyes on your open roles. Consider implementing some of the following out of the box recruitment strategies to get your roles more traffic. Here's how to improve recruitment strategies with some unique techniques:
Make a recruitment video that shows off your company culture and your team's personalities
Host career fairs at local colleges to engage with young talent
Keep passive candidates engaged
Use your social media channels to promote your open roles (not just LinkedIn)
Create paid advertisements that showcase your open roles 
Along with these unique recruitment ideas, there are other ways to recruit employees, like continuing to utilize the appropriate job boards and using SEO job postings. 
You can also consider modern methods of recruitment to find top talent. Some methods of hiring new employees include using your current staff as recruiters by offering referral bonuses, posting your open roles on social media with employee testimonials, and using industry-specific job boards to advertise your positions. 
Other types of recruitment strategies include using your career site, word of mouth recruitment, and traditional recruiters, but the best way to improve your recruitment process is to make it simple, efficient, and streamlined.
Qualities to look for when hiring an employee
There's a lot of things to consider when hiring an employee, including both the hard and soft skills that they should possess. Hard skills are the teachable and measurable abilities of an individual, while soft skills are more in line with character or personality traits. So when you're thinking about who to hire for your next role, consider both an applicant's soft and hard skills. 
Some of the top qualities to look for when hiring an employee are:
Great communication skills: especially if you're offering remote roles, good communication is essential to a thriving business. 
Holding a growth mindset: this is one of Hireology's biggest values and what great employees are all about. Having a growth mindset means you're always wanting to learn and grow. You're not just content with the way things are, you want to make improvements when necessary. 
A team player: even as an individual contributor, employees will likely be working together throughout their day-to-day roles. It's important that they can do so with ease and efficiency. 
Independence: while being a team player is important, they also need to be able to work solo when necessary and complete tasks without a lot of oversight. 
Reliability: you shouldn't have to continually ask them about projects and deadlines. You should be confident that they'll get their work done, or talk to you when obstacles arise. 
Self-awareness: your employees should be aware of their strengths and weaknesses, and should possess emotional intelligence. 
While this isn't an exhaustive list, these qualities will help you find employees that are eager to learn and grow with your company, can handle feedback well, and can essentially help your organization succeed. 
How to hire employees for small business
When it comes to hiring for a small business, you're likely looking for a different skill set than that of an enterprise organization. That's because small businesses have fewer staff members, which means each individual likely has responsibilities outside of their normal day-to-day. That makes the importance of hiring the right employee all the more paramount. So, look for employees that can wear a lot of hats and are comfortable with change, because you're bound to have a lot of it. 
You may not know exactly how to hire good employees for small businesses, but it's not miles off from the list above. You still want employees that are reliable, self-sustainable, and good communicators, but you may want to throw a few other characteristics in the mix, like adaptability, forward-thinking, and a good leader. Looking for these soft skills will serve you well, as candidates that harness these will be able to keep your organization moving forward. It's very difficult to grow a business without adapting to changes, so you need people on your team that can roll with the punches. 
So when creating your small business hiring process, use the above checklist, but make sure you hone in on your current staff to spread the word of your open roles to their networks. Small businesses may have a tougher time getting eyes on their open roles, so a reliance on SEO-friendly job postings and career site are essential, too. Hireology can help you create these so that you can start attracting more candidates to your roles. 
Hiring the best team
Hireology is all about helping you with hiring your best team. We've created a purpose-built platform to help our customers navigate their complex hiring and retention challenges. We help you lead a people-first approach to hiring with our all-in-one software so managing your recruitment, hiring, and post-hire processes are simple.
The importance of hiring the right person to your organization can't be overstated, so Hireology is keen on supporting you with hiring the best employees, and retaining top talent to your organization. We understand how to recruit effectively and can help you develop a comprehensive career site and SEO-friendly job descriptions. 
We've also got built in tools to help you communicate with your candidates throughout the hiring process, remain organized with documents and certifications, automate candidate verification, onboard employees digitally, and even manage payroll. Our all-in-one platform can transform your manual and time consuming hiring experience into your industry's best recruitment process. Schedule a demo today to see how. 
And for more information around what applicants want from your hiring process and how you can appeal to them now and in the future, check out our 2021 State of Hiring report.