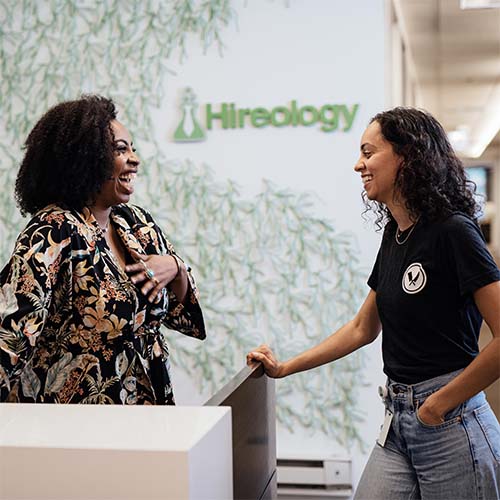 Tips on how to hire your best team based on our 2021 State of Hiring report
Hiring Best Practices​ - Hireology
Everything you need to build your best team
Hireology gives you the process and tools to attract top applicants, hire the right candidate and onboard with ease.
Hiring Best Practices​ - Hireology
A hiring process your team and candidates will love
Enterprise-caliber solutions connect you with your team and applicants to provide an incredible candidate experience.
Hire with confidence in our all-in-one platform
Businesses across all industries rely on Hireology to execute a human-centered hiring and people management process that works.
What our customers are saying

"I love everything about this platform. One of my goals is to run an agency with a post-pandemic view in mind. That means maxing out on paperless, electronic, virtual, and remote capabilities. Hireology allows me to do this effortlessly from my phone."
"Before Hireology, we had an outdated and inefficient hiring process. We now have a consistent and compliant process that allows us to make decisions backed by data to hold hiring managers accountable."
Human Resources Director |
Lincoln Park Zoological Society
"The customer success team at Hireology routinely takes the time to review applicants live with me. Getting a second set of eyes on my pipeline, in addition to learning techniques to save time, is the kind of customer experience I am looking for as a business owner."
Alphagraphics- Irving, TX
"Prior to hireology we were tracking all recruiting efforts across our 50 locations with an Excel spreadsheet. We were recruiting with blindfolds on, utilizing free local job boards and managing applicant pools out of our email inboxes. Since partnering with Hireology in 2016 we have redefined recruiting for Fox Motors."
Talent Development Manager |
"Hireology took our hiring platform out of a Google Sheet and into a sustainable platform."
Executive Administrator |
Learn how Hireology can help you attract and hire talent fast
Hiring Best Practices
Hiring has been increasingly difficult lately. In normal times, hiring can be challenging but add a pandemic and a hiring crisis, and you've got the perfect storm for hiring chaos. 
Following hiring best practices, however, can help you secure talent even in tumultuous hiring times. Some recruitment best practices include what you're offering candidates, how quickly you can move the hiring process along, and implementing ways to make your process more inclusive. These aren't trends that will fade away — they are requirements that help you secure top talent. But how do you begin to implement these hiring policy and procedures in your organization, perhaps across multiple locations? 
It starts with an organized system, as well as a deep understanding of applicant wants and needs. Hireology surveyed nearly 5,000 recent applicants to better grasp their job search experience and what they expect from employers. We were able to construct a report of their responses, as well as what your organization can do to attract these individuals. 
In this blog, we'll go over some of the most relevant content from the report, and the hiring best practices to help you grab the attention of talent, even from outside of your current industry.
Hiring best practices 2021
The hiring trends 2021 has seen have revolved around flexibility. In the past two years, employees have realized that a healthy work-life balance is one of the most cherished offerings a workplace can have. As folks had to grapple with changes in their caregiving responsibilities, as well as their pandemic-related fears, they relied on their workplace to provide leniency. Those that didn't offer that lost folks much faster. 
This isn't the only thing applicants expect, however. Offering career opportunities was considered important to 79% of survey respondents, and 93% said competitive pay was the reason they applied for a particular job. These aren't new desires, but how heavily they're weighted by job seekers is shifting.
Some hiring best practices 2021 has brought about are the importance of competitive research when designing your hiring process, the reliance on technology throughout your processes, and the need for a speedier hiring process. If you're able to move candidates through your hiring process quickly, you have a much better chance of securing them. 43% of respondents said they received job offers from more than one company, so it's paramount to keep your process moving along if you want to beat the competition. 
Additionally, the other recruiting best practices 2021 saw include candidate experience and communication. It's your job to make a candidate feel welcome, and your team should work to keep them informed throughout the hiring process. Businesses find the greatest success through candidate communication that's instant, such as text messages and calls. With 46% of candidates relying on their mobile devices as their primary means of job searching, you can bet they'll answer your calls and texts quicker than an email. 
Diversity and inclusion in recruitment
Another huge must from companies today is creating an inclusive hiring process. Implementing diversity and inclusion in recruitment is not a trend — it's something that has recently become more important due to current social issues such as the Black Lives Matter and MeToo movements. But it's important to understand that having equal representation in your company isn't a passing fad, it's an essential practice that if you've not adopted yet, you better do so imminently. 
Inclusive hiring practices include things like blind resume review, eliminating subjective language from job descriptions, and getting rid of requirements that are too hefty for the role. For example, if you have a job opening for a car salesperson, requiring a college degree might not be necessary. Opting for equivalent experience can be part of instituting fair hiring practices. Additionally, creating unpaid internships can deter inclusion as well, as many individuals don't have the means to afford a job that doesn't pay. 
Start by establishing your inclusion and diversity hiring goals, like wanting your staff to mirror the dynamics of the US population by 2024, and implement fair hiring practices that lead up to these initiatives. Once you've implemented hiring practices for diversity, ask candidates for feedback on your process. This will help you identify any unfair recruitment and selection process mistakes that may still linger so you can get rid of the hiring practices discrimination. And talk to your current employees about ways you can create a more inclusive environment at work because implementing hiring practices for diversity does nothing if you have a toxic workplace culture or one where representation falls flat. 
Hiring practices example
As you think of how your want to structure your hiring process, it might help to have some hiring practices examples. Here are a few that really stand out as great processes that you should work to emulate: 
Use pre-screen surveys to minimize the number of unqualified candidates that your HR team will review. These help to weed out candidates that don't have the required qualifications so you're not wasting your team's time.
Keep your interview process consistent to avoid bias and allow your hiring managers to evaluate each candidate based on their skills and qualifications. 
Have feedback sessions with your team members to compare notes on candidates and make sure everyone is aligned.
Invest in your candidate sourcing channels including job boards, an employee referral program, social media, and your career site. Don't put all your stake in one, but make sure you're using each one to their advantage. 
Encourage your HR team to reach out to candidates frequently to keep them informed. The last thing you want is a candidate that you're interested in to choose another company because they don't know where they stand with you.
Make the entire process personal. All communication should be original, and even for those that don't get the role, offer up personal feedback so candidates understand how they can grow. Companies that do this have great reviews on sites like Glassdoor. 
Give your team hiring goals to meet, like the length of time to review applications or time to move candidates through each step of the hiring process. Report on these goals and work to get faster so you can make hires even faster. 
These recruitment strategy examples can help you build out your strategy as well as help you think through some hiring policies examples you could include to keep your process more efficient.

Out of the box recruiting strategies
And if you're looking for a more creative approach to recruitment, here are some great out of the-box recruiting strategies that you can use to guide your hiring process:
Use your social media to drive awareness of your open roles, but also of your company culture. Feature team members that have had an interesting career path, showcase quotes from happy employees, share photos of your team at community events, and make it clear that you've got a great culture.
Recruit at universities so that you can garner new talent and drive interest in your industry for those that might not be familiar.
Create recruitment videos of your staff and why working at your company is better than anywhere else. Get your employees to share the video on their social media platforms for extra eyes. 
Utilize your employee referral program and come up with creative prizes for those that refer their peers. Think paid vacations, gift cards, or other fun and exciting offers.
Revamp your benefits package to include additional benefits like mental health days, sabbatical after five years with the company, meal coupons, paid volunteer days, or other great perks that will get folks excited about your company. 
Focusing on recruiting ideas outside the-box help you to get more attention on your open roles and show candidates that you're pushing the envelope, which appeals to talent. 
Leadership hiring best practices
Lastly, leadership hiring best practices is a focus that you have to invest a lot of time into. Hiring great leaders can be tricky because they require different qualities than individual contributors, and that's often difficult to gauge through a short interview. And the leaders you choose for your organization can have a profound impact on your staff. While only 5% of respondents said they left their last job because of issues with their managers, it's still something you want to keep on your radar, because if you want to keep your employees around, you have to be thoughtful about who you choose to lead them. 
Leadership also requires transparency. Reporting on how healthy your company is is one way to encourage transparency, but you also need to instill avenues of open communication. You should encourage all managers to talk to each of their direct reports weekly to talk through any concerns, answer questions, or just generally get to know one another on a deeper level so that open communication can occur. 
And you need to remember that you also have to be an organization that attracts great leaders, which means you need to implement offerings that make leaders excited about working for you. This includes things like steps for leadership development, good benefits, and a great culture. You can't expect to make headway without these three essentials, so bake them into your leadership hiring process.
Want more tips on hiring best practices? Read our 2021 State of Hiring report to gain more insight into what applicants expect of your organization.