This is a post from AlayaCare, a Hireology partner that offers cloud-based home health care software.

In 2021, as in years past, employee churn is a major pain point in the accelerating, competitive home care industry.

It's a challenge with many dimensions. Churn can cause staff shortages that compel an agency to turn away potential new clients. It raises the risk of missed visits, hurting client satisfaction and causing last-minute scheduling scrambles. And it leads to a continuity gap in care, which can unsettle clients who need consistent caregivers and visits. The end result: churn can itself cause poorer health outcomes.

Recruiting and retaining skilled caregivers is critical for workforce stability. This has led agencies to hone in on creating a strong employee experience, optimized scheduling to the preferences of caregivers, and alleviating admin tasks and paperwork.

In AlayaCare's recent 2021 Employee Retention Survey Report, we found that caregiver churn was the third biggest issue for home care providers during COVID-19. Some providers sought retention strategies like training, while others turned to data analytics in order to identify and address the needs of employees and the multi-dimensional costs of turnover.
A timely discussion on churn and retention
On May 19, we partnered with Home Health Care News to host a panel of experts from AlayaCare, Hireology, and Care Academy, to explore employee churn and retention in wake of key findings from the survey.

Speakers included:
If you missed the discussion, watch the full recording and enjoy some key highlights below: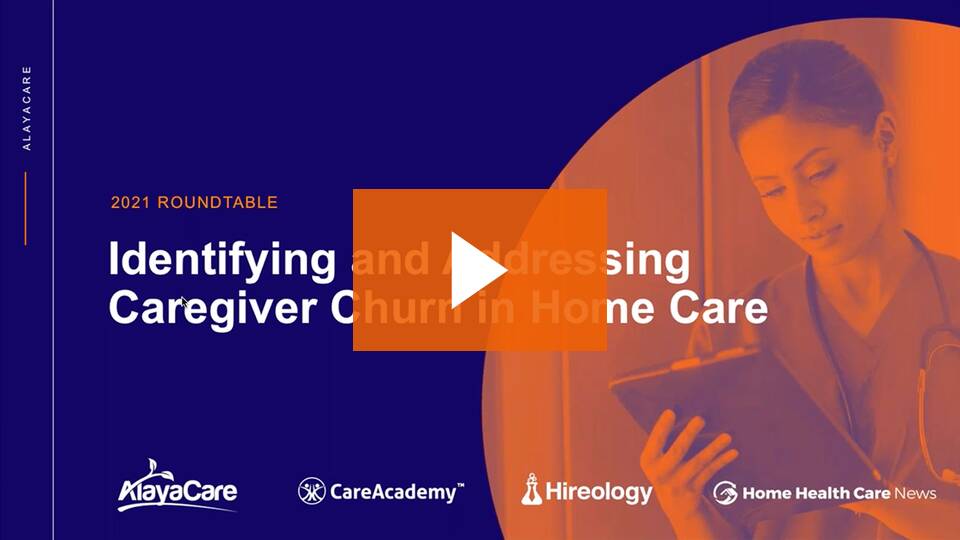 5 Highlights from Identifying and Addressing Caregiver Churn in Home Care
Caregiver churn is a significant pain point for providers in 2021
Caregiver churn continues to be a major challenge across the entire home care landscape for agencies of all stripes. Amidst the many impacts of COVID-19, providers say that employee retention is a major roadblock to growth, and leading organizations are focused on address causes of churn to stay competitive.

In fact, AlayaCare's 2021 Employee Retention Survey Report with Home Health Care News revealed that 80 percent of respondents reported that caregiver churn disrupts their bottom lines, and nearly 60 percent were willing to invest in solutions.
Look to improve hiring, onboarding, training & development
Being known as a great employer goes a long way to attract new talent and keep the people you have. This starts early: providing a respectable experience for job seekers sets the tone, as timely responses and friendly engagement gets noticed. Meanwhile, finding efficiencies and reducing the hiring process down by even a few days makes you more competitive and gets job seekers to work faster.

Technology is one key to a great experience. Once hired, digital onboarding can get new caregivers up to speed sooner by offering a guided experience on what to expect. Combined with in-person or other human connections, this can make for a memorable experience that goes a long way to ensuring caregivers feel welcomed and valued. That's important since your employees are your biggest champions in the job market.

The pandemic may have brought virtual training to the forefront, yet agencies are realizing how successful and efficient it can be in any environment. Not only can virtual training cut costs, but it can get caregivers trained faster, opening them up to more opportunities to provide specialized care to clients with complex disease conditions such as Dementia or Parkinson's disease. Staff can take classes at their preferred time and pace safely and effectively.
Embrace data science & technology
Modernizing operations with mobile tech and smart software can make work more rewarding for caregivers and guard against burnout. Tech that optimizes scheduling and travel between clients is proven to increase caregiver utilization and reduce travel time, for starters.

With a system that can capture data, agencies can turn to analytics to ensure each caregiver is being looked after. If we loop back to the hiring process, we know that if there is a gap in time between getting hired and the first shift, churn can be a real threat. A data system would reveal what each caregiver is doing in the first 30 or 60 days, better ensuring they start being onboarded, trained, and earn shifts without too much time passing.

Software these days can offer retention dashboards, giving all necessary data at one's fingertips, including satisfaction scores for each caregiver. Are they getting enough hours? Is this enough to warrant full-time status? Are they earning enough quality shifts? Are they traveling too much? Are they performing the services aligned with their skills? Using advanced algorithms and models, these answers can show up in actionable data, revealing trends that show how satisfied each person likely is. No longer will a caregiver quietly go a month or two without a shift, with nobody realizing it – because their satisfaction score would be immediately visible as low.

Technological tools that support caregivers on the job are a prime way to boost their employee experience. There is the route and schedule optimization software. There are mobile apps that allow them to view and update files from anywhere. There are alerts when a client's status is slipping or has suffered a fall or a wound, with AI-based risk models that predict risk and give caregivers and clients steps to mitigate risks in real-time. There are portals to communicate with clients.

Once a home care provider begins to leverage the power of data science and modern software, it can play a huge factor in improving employee satisfaction and retention.
Treat people properly
The best course of action for sidestepping churn is to ensure each caregiver is treated on an individual basis and looked after, made to feel an important cog in the machine even in the largest agencies.

When it comes to COVID, go the extra mile in building and communicating full safety measures. When it comes to helping them be successful, it means understanding their unique situation (for example being a parent or balancing two jobs) and equipping them with training and support. It means acknowledging that caregivers may have diverse points of view, and trying to respect and get to a place of understanding and support (this includes present-day issues like vaccine skepticism).

A good starting spot is to figure out what characteristics and elements are involved with caregivers that are long-time veterans. Can you find predictors of success in how they are being treated and deployed? Being mindful of what's worked well in the past will help with the needs of today and tomorrow.
Look ahead to greet the rising demand for caregivers in a competitive market
Expect turnover and retention to be a systemic issue in home care for many years to come. Keeping caregivers in the zone as to knowing their efforts are directly improving patient outcomes is key. To that end, agencies that focus on greater employee experiences, and build strategic retention programs, will stand out.

Research other industries and see who is doing the best on the employee retention front. What innovative partnerships are they pursuing to, for instance, improve training and skills development? It's a sound strategy to borrow from those who are doing well.

The market forces are in our favor. COVID has accelerated how broadly health care is moving inside our homes. Centering efforts on caregiver experience will solidify operations. Think of the full journey from a prospective employee to a veteran of 15 years. This runs the gamut from making job descriptions SEO-friendly to empowering caregivers to optimize their own schedules.
Take a dedicated focus to eliminate churn
While the root causes of churn are varied and complex, there are common threads – and actionable tasks – that can go a long way to improving the caregiver experience and, in turn, attract and retain valuable staff. Improving hiring, onboarding, training, and development; embracing the efficiencies that data science and technology can offer; planning ahead, and simply treating people well are some ways to start effecting change now.