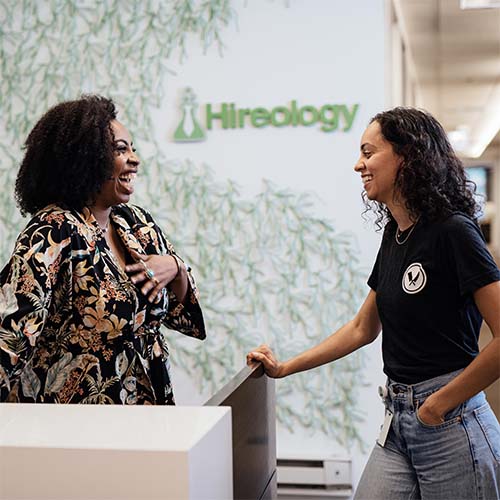 Give your HR team some relief with great talent management tools that make your processes run smoothly
Talent Management Tools - Hireology
Everything you need to build your best team
Hireology gives you the process and tools to attract top applicants, hire the right candidate and onboard with ease.
Talent Management Tools - Hireology
A hiring process your team and candidates will love
Enterprise-caliber solutions connect you with your team and applicants to provide an incredible candidate experience.
Hire with confidence in our all-in-one platform
Businesses across all industries rely on Hireology to execute a human-centered hiring and people management process that works.
What our customers are saying

"I love everything about this platform. One of my goals is to run an agency with a post-pandemic view in mind. That means maxing out on paperless, electronic, virtual, and remote capabilities. Hireology allows me to do this effortlessly from my phone."
"Before Hireology, we had an outdated and inefficient hiring process. We now have a consistent and compliant process that allows us to make decisions backed by data to hold hiring managers accountable."
Human Resources Director |
Lincoln Park Zoological Society
"The customer success team at Hireology routinely takes the time to review applicants live with me. Getting a second set of eyes on my pipeline, in addition to learning techniques to save time, is the kind of customer experience I am looking for as a business owner."
Alphagraphics- Irving, TX
"Prior to hireology we were tracking all recruiting efforts across our 50 locations with an Excel spreadsheet. We were recruiting with blindfolds on, utilizing free local job boards and managing applicant pools out of our email inboxes. Since partnering with Hireology in 2016 we have redefined recruiting for Fox Motors."
Talent Development Manager |
"Hireology took our hiring platform out of a Google Sheet and into a sustainable platform."
Executive Administrator |
Learn how Hireology can help you attract and hire talent fast
Talent Management Tools
Talent management tools can take your hiring and post-hire processes from manual and clunky to speedy and efficient. But it can be difficult to know which tools will best benefit your organization. Some talent management tools claim to offer great solutions to your hiring needs, but end up falling short or lacking the integration capabilities to keep your process moving. Free talent management software can seem like a great alternative, but oftentimes free software either doesn't have the functionality you need, doesn't communicate with your other systems, or has hidden fees that end up costing you much more in the long run. 
The key to choosing a good talent management software is listening to consumer reports, choosing an industry-trusted product, and seeing a demo before making your final decision to ensure that it's user-friendly. You also need to make a checklist of everything you need from a platform, such as interview guidelines, prescreening surveys, automated reference and background checks, candidate communication, digital onboarding, and payroll management. These may sound like nice-to-haves, but the right system will offer each and every one of these functions to make you and your HR team's jobs easier. 
To start your search, look specifically at solutions within your industry. For example, if you are in the healthcare industry, search "healthcare talent management software" to find what others are using. This can help you narrow down your search and gain better insight into if the product would work well for you. Then you can look into the companies that use talent management software and see if they have a similar size and function to you. 
This blog will help you get started on your search for the best talent management software. We'll discuss the importance of talent management, how you can establish a talent management strategy, and share some examples of talent management systems that can get the job done. 
Importance of talent management
The importance of talent management goes beyond what you may anticipate. Of course, talent management helps you remain organized, but it can do so much more for your organization's bottom line. Investing in the talent management process can help you to hire faster, help your candidates to have a better experience, and help your team feel less stressed at work. In the current hiring climate we're in, these are essential to your success. 
There are several components of talent management, listed and explained below: 
Determine a need for a position
You need to first make sure you understand where your company has gaps in employment. Look at processes along with headcount and see where you could use an extra set of hands, a certain level of experience, or a new role altogether. Then, you have to create a well-thought-out job description that's SEO-friendly (Hireology can help with this) so that your organization comes up in job seekers' search results. 
Move great candidates through the hiring process, but make sure you're offering an unbias experience and vetting candidates based on their experience by asking all candidates the same questions. Rate candidate responses and meet with your hiring team to discuss the candidate you'll move forward with. Submit an offer letter and wait. 
Once they've accepted the role, get started with development right away. Send them new hire paperwork electronically before their first day and do as much digital onboarding as possible so they remain excited about their new position. Continue to develop them throughout their career so that they grow with your company and don't feel stifled.
Work to ensure your culture makes your employees want to stick around. Provide growth opportunities for employees, and prioritize their health and wellness so that they feel like they can continue to thrive long-term. 
Below, we'll go over some talent management system examples to help you start thinking about your talent management strategy. 
Talent management model
Now planning your talent management model can be helpful in hiring and retaining talent as well. A talent management framework or talent management process model is similar to the above list, but it involves a few more steps. Here's the breakdown:
You must start with planning out what types of hires you need to make and how to go about getting talent. You should create job descriptions in this phase and ensure that your career site has great information about working at your company. 
Ensure that you're using multiple candidate sourcing avenues like job boards, an employee referral program, and social media. Don't rely solely on one avenue to attract because it will cost more long term and you'll see fewer hires made. Instead, diversify your sources and ensure you have a healthy and continuous stream of candidates.
Select candidates using unbiased practices to ensure that you're hiring for skill over culture fit. The candidate should add to your culture rather than fit in, so make sure you're looking for great talent that way. Use hiring software to ensure you're moving talent through the process as quickly as possible so that you don't lose top talent to your competition. 
You should start developing your talent before their first day. Use digital onboarding to send over important new hire documents and information and get them up to speed so on their first day, they can focus on learning the company. Then over time make sure you're talking with them about how they want to grow, what interests they have, and give them access to training and learning opportunities to advance their knowledge and expertise.
Ensure your culture is one that makes employees excited about coming to work. Offer recognition including bonuses and raises when appropriate, and make sure your employees have the opportunity to grow their careers. Otherwise, you'll lose them to a business that prioritizes employee development. Get your employees' feedback to make sure you're doing all that you can to keep them around long-term. 
In the inevitable case that your employees do leave, you should make sure that the entire process is as seamless as possible. Hold exit interviews to find out how you can make improvements, gain insight into why they are moving on, and ensure they know that they were valued at your organization. 
These talent management techniques can help you hire top talent and keep them around long-term. Having a talent management strategy framework helps you to build your business better, and this talent management strategy template can get you started on the right foot. 

Talent management strategy
Creating a talent management strategy is the first step to ensuring you have what it takes to hire great people. Without a strategy, you can make hiring decisions that might seem like the best move for your company, but without proper strategic planning, you may find that the role changes drastically in a short amount of time, and this can cause your employees to jump ship. You want to take time to develop a talent management strategy model so that you can in a sense predict what's to come and understand the gaps that need to be filled now and in the future.
Some talent management strategy examples include creating an organization chart and identifying the three-year progression of a certain team. For instance, if you take your marketing team that currently has three folks on it that handle all internal and external communications, you may say that in your immediate future, you need an email marketer, in your one-year goals you can look for a content specialist and a product marketing manager, and in your three-year timeline, you can look for a data analyst, a social media manager, and a performance marketing manager. This will help your team grow in a strategic way rather than just thinking about short-term gaps. You can of course change direction if down the line you realize you have a greater need for other positions, but this is a good base.
Other talent management strategies to consider are using data and analytics to drive your business and hiring decisions. Hireology has an insights dashboard that tells you which parts of your hiring process need attention, where improvements can be made, and which locations or teams hire at the slowest pace. This can help you adjust your hiring process to stay competitive even during a particularly difficult hiring climate. 
Talent management software
The talent management software that you choose to invest in has the ability to make your entire hiring process run smoothly. For instance, Hireology is considered a talent software, but that's only one of the capabilities it has. From applicant stage assistance like prescreen surveys and SEO-friendly job descriptions, to helping you move candidates through the process and onboard and run payroll for new hires, the entire process is improved with one platform. 
That's why an all-in-one system is the best route. But keep in mind there are other things you need to consider as well. Do you have an employee referral program set up? If not, you're missing out on one of the best candidates sourcing avenues with the highest return on investment. Additionally, have you thought through a pricing model that makes sense? You want one that's straightforward without any hidden fees or other costs down the road. Lastly, you have to consider the ease of use and the support team that the company offers. If you have any issues with your talent management software, you want to be sure there's always someone you can call for help. And if the system takes months to learn, your employees will be much less likely to use it — costing you time and money. You should prioritize a software purchase that of course solves all of your hiring issues, but also is easy to teach and learn for your employees. 
Luckily, Hireology is not only easy to use, but it's industry-trusted and it's support team has been rated number one by HRO Today's Baker's Dozen — a vote cast by customers rating a company's customer service.
Use these talent management examples to develop your own talent management strategy, and reach out to Hireology for help running an effective talent management system.