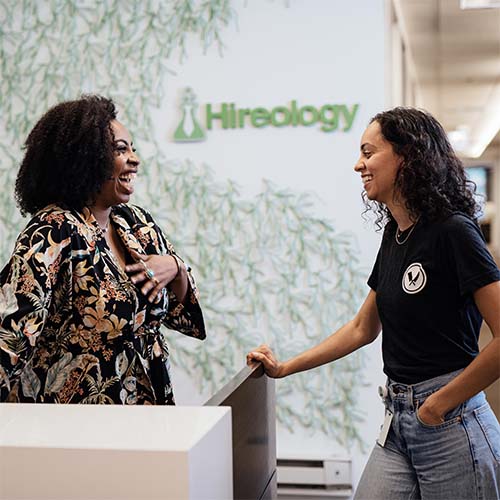 Quickly and easily screen applicants to ensure you're getting top talent
Screening Applicants - Hireology
Everything you need to build your best team
Hireology gives you the process and tools to attract top applicants, hire the right candidate and onboard with ease.
Screening Applicants - Hireology
A hiring process your team and candidates will love
Enterprise-caliber solutions connect you with your team and applicants to provide an incredible candidate experience.
Hire with confidence in our all-in-one platform
Businesses across all industries rely on Hireology to execute a human-centered hiring and people management process that works.
What our customers are saying

"I love everything about this platform. One of my goals is to run an agency with a post-pandemic view in mind. That means maxing out on paperless, electronic, virtual, and remote capabilities. Hireology allows me to do this effortlessly from my phone."
"Before Hireology, we had an outdated and inefficient hiring process. We now have a consistent and compliant process that allows us to make decisions backed by data to hold hiring managers accountable."
Human Resources Director |
Lincoln Park Zoological Society
"The customer success team at Hireology routinely takes the time to review applicants live with me. Getting a second set of eyes on my pipeline, in addition to learning techniques to save time, is the kind of customer experience I am looking for as a business owner."
Alphagraphics- Irving, TX
"Prior to hireology we were tracking all recruiting efforts across our 50 locations with an Excel spreadsheet. We were recruiting with blindfolds on, utilizing free local job boards and managing applicant pools out of our email inboxes. Since partnering with Hireology in 2016 we have redefined recruiting for Fox Motors."
Talent Development Manager |
"Hireology took our hiring platform out of a Google Sheet and into a sustainable platform."
Executive Administrator |
Learn how Hireology can help you attract and hire talent fast
Screening Applicants
If you've ever been tasked with hiring a new employee, you know that it's no easy feat, especially without the use of helpful hiring technology. Posting jobs, sorting through applicants, scheduling interviews, and chasing down references make the process seem excruciating. But with the right technology, your hiring process can not only be seamless, but help you land top talent.  
Screening applications, for example, takes up valuable time that you may not have if you've got a small HR team. Plus, it's easy to overlook qualified applicants and tough to stay organized, especially if you're dealing with paper or manual processes that lack efficiency and seamlessness. All in all, reviewing applications manually is a job in itself. 
But screening applicants doesn't have to take up you and your team's entire workday. With the right software in place, you can screen candidates automatically without having to review each and every application that comes across your desk. Softwares like Hireology allow you to issue prescreen surveys to candidates to eliminate this manual process and ensure that all applicants that you interview are qualified.
These simple questionnaires that can be customized to each industry and role will help you screen applications automatically and give your team time to focus on running the rest of the hiring process. Here's a look at how automating candidate screenings can save you loads of time and effort.  
What is the screening process? 
The screening process meaning is the time in which your team takes to evaluate a candidate's potential fit at your organization. The process is based on qualifications they've presented in any of the following ways:
their resume submitted online or in person
A pre-screen survey issued by your organization that evaluates their competencies and skills 
An interview or phone screen by a member of your HR team or the hiring manager
Follow up interviews (both virtual and in-person)
Skills tests that check for core capabilities
Reference checks
Background checks
Each of these verification steps help you and your team make educated hiring decisions throughout the recruitment and selection process. It allows you to evaluate candidates thoroughly for both job competencies and how candidates would contribute to your culture, and so much more. Depending on the way you set up your screening process, you can gauge manager expectations and growth potential.
With a hiring software, this can all be managed in a single platform, so you don't have to worry about lost paperwork. And, making your screening process digital gives you the opportunity to eliminate biases by making each step consistent for every applicant. That way, you're able to evaluate each individual fairly and really dig into who would be the best fit for the role. 
Screening process steps
There are steps to follow throughout the candidate selection process in order to make sure you're properly vetting each hire you make. While there are various methods for screening candidates, you're essentially following the same set of steps throughout the screening process for hiring.
You start by identifying a role and vetting candidates based on their application, but there are many more steps involved to make sure you're making solid hiring decisions. Once you've completed the preliminary screening in the selection process, for example, you can move on to evaluating the candidates through interviews and skills tests to get a better picture of their fit. The screening process steps are as follows:
Create a job description that satisfies a need at your organization
Determine the qualifications that are necessary for the role
Administer pre-screening tests to applicants once they've submitted their application
Schedule phone screen interviews, followed by virtual and in-person interviews with qualified applicants
Issue skills tests to ensure that applicants have the essential skills for the role
Submit reference check requests 
Run background checks 
Make your hiring decision
Extend an offer letter
Within each of these steps, your team should be discussing your top applicants and sharing feedback with one another. Evaluating candidates after interviews as a team helps 
candidate selection process to make sure everyone is on the same page as well as eliminate biases and answer any questions your team may have about your front runners.
Candidate screening tools
Candidate screening tools can help you speed up the employee screening process and ensure consistency to better promote diverse and equitable hiring. There are loads of helpful candidate screening tools available to make the screening and selection process easier, but it's important to invest in ones that will work with the current processes you have in place, and won't eliminate qualified candidates by mistake. 
For instance, there are screening tools that search resumes for certain keywords and eliminate those that don't mention them. While this may seem like a great way to separate candidates that are qualified, formatting issues and other barriers may cause great candidates to automatically be eliminated from your process. 
For this reason, pre-screen surveys are a more comprehensive way to gauge candidate abilities. These simple and straightforward surveys ask a series of questions that are necessary for your role. For example, a potential pre-screen question for a position detailing a heavy equipment operator may read "Do you have a commercial driver's license?" If the candidate answers no, they will automatically be excluded from the hiring process, so your recruiters won't waste time reviewing their application. 
In addition to pre-screen surveys, skills tests help you to evaluate candidates based on their essential skills and abilities. A company looking for a designer may issue a skills test that requires each candidate to create a mockup of a webpage. This would help the hiring manager understand the thought process and skills the candidate has to determine if they'd be a good fit. 
Other great candidate verification tools include reference checks. These help hiring managers understand how former coworkers and managers felt about working with the candidates. And, many organizations use background checks to look into the background of applicants based on specific criteria that are important to the role or employer. These can include employment history, education, criminal records, and motor vehicle and license records, along with other categories.
So implement candidate screening tools that make screening and evaluating candidates easier for you and your HR team, like skills tests, pre-screen surveys, and automated reference and background checks — all of which can be found in Hireology's platform.
Screening process in HR
Your screening process in HR may look different from others in your industry based on what you want out of your candidates. But consistency throughout your organization is key to keeping the process moving along smoothly. 
For application screening questions, you should stick to the role requirements when creating your survey. Ask questions that reflect what you've said in your job application to avoid discrimination. Here are a few examples:
Do you have three years of sales experience?
Do you have a current driver's license?
Are you available to work 40 hours a week Monday through Friday? 
Do you have access to transportation? 
Are you eligible to work in the United States?
When it comes to screening applicants over the phone, you can ask broader questions so that you get an idea of their understanding of the role and industry, and what excites them about your company. Remember that these questions are meant to be direct and you shouldn't aim to trick candidates, as you want to get a feel for their fit at your organization and in the role. The more difficult or specific questions can come later on. 
Here are a few applicant screening questions you can ask your candidates: 
Tell me about yourself and your work background.
What made you interested in this organization?
What about the role excites you?
Why are you looking to leave your current role? 
What is an accomplishment you're particularly proud of? 
What are you looking for in your next role?
What are your compensation expectations?
When are you available to start a new role?
This role requires you to be in the office during normal working hours. Would you be able to do that? 
These questions will help you move candidates that are qualified through to the hiring manager for a more in-depth interview.
Candidate evaluation examples
When it comes to evaluating candidates, there are a few different ways to do this. You can rate candidates on a scale from one to ten for each question that you ask. Other candidate evaluation examples include a star rating system or a percentage rating. These can be administered during both the pre-screen survey and during interviews to help you track how candidates are scoring throughout the application screening process and beyond. 
Hireology uses a percentage scoring system that allows you to add in notes about applicants for future review or for the rest of your hiring team to read. That way, you don't have to spend time meeting as a team every time you review a candidate — you can simply login to the software and quickly read through why a candidate scored a certain rating. You can establish minimum scores to allow candidates to move on in the process, too, so that it's easier to eliminate candidates who don't score as well. 
Hiring can be tough to do efficiently, but with great tools in place, you can be confident you're hiring the right people, without making your HR team devote too much time. See the difference Hireology can make for your hiring process — request a demo today.