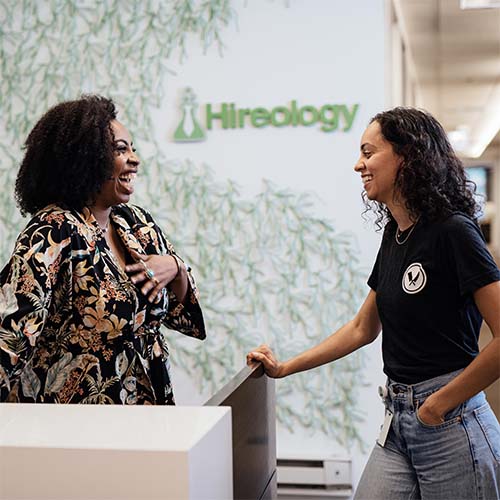 Questions To Ask A Recruiter During A Phone Interview
Tips and tricks on how to do well in your next interview
Questions To Ask A Recruiter During A Phone Interview - Hireology
Everything you need to build your best team
Hireology gives you the process and tools to attract top applicants, hire the right candidate and onboard with ease.
Questions To Ask A Recruiter During A Phone Interview - Hireology
A hiring process your team and candidates will love
Enterprise-caliber solutions connect you with your team and applicants to provide an incredible candidate experience.
Hire with confidence in our all-in-one platform
Businesses across all industries rely on Hireology to execute a human-centered hiring and people management process that works.
What our customers are saying

"I love everything about this platform. One of my goals is to run an agency with a post-pandemic view in mind. That means maxing out on paperless, electronic, virtual, and remote capabilities. Hireology allows me to do this effortlessly from my phone."
"Before Hireology, we had an outdated and inefficient hiring process. We now have a consistent and compliant process that allows us to make decisions backed by data to hold hiring managers accountable."
Human Resources Director |
Lincoln Park Zoological Society
"The customer success team at Hireology routinely takes the time to review applicants live with me. Getting a second set of eyes on my pipeline, in addition to learning techniques to save time, is the kind of customer experience I am looking for as a business owner."
Alphagraphics- Irving, TX
"Prior to hireology we were tracking all recruiting efforts across our 50 locations with an Excel spreadsheet. We were recruiting with blindfolds on, utilizing free local job boards and managing applicant pools out of our email inboxes. Since partnering with Hireology in 2016 we have redefined recruiting for Fox Motors."
Talent Development Manager |
"Hireology took our hiring platform out of a Google Sheet and into a sustainable platform."
Executive Administrator |
Learn how Hireology can help you attract and hire talent fast
Questions To Ask A Recruiter During A Phone Interview
The interview process can feel overwhelming at times. Submitting applications, formatting resumes, researching companies, and preparing for interviews can cause you stress, but it doesn't have to be that way as long as you set aside the proper amount of time to prepare. 
Preparing for interviews is a really important step in making sure you come off as a great candidate. Phone interviews in particular may seem straightforward, but it's important to give some prep time to these, as this is your chance to make a great first impression. You want to come off as knowledgeable and qualified, but also want to show your personality a bit so that the recruiter can get to know you a bit better.
We've put together this guide to help you prepare for your next phone interview, including common phone interview questions, so you can be prepared. This phone interview cheat sheet will help you understand interview best practices, including tips and tricks to keep in mind during the interview, follow up questions to ask, and specific questions to ask hr manager during interview. 
Use this blog as a resource during your next phone interview with recruiter to help you ace the interview.
Telephone interview tips
Before we dive into what to ask a recruiter during an interview, it's important to go over a few telephone interview tips. Here are some important things to remember for your next phone interview:
Make sure you're in a quiet place that's not distracting
Make sure your phone signal is strong and your phone is charged
Know who you'll be speaking with and do some research on them using LinkedIn
Familiarize yourself with the company using their career site, the about page, the company LinkedIn page, and read a few blogs for good measure
Don't be afraid to show your personality, but keep it professional
Read over the role and responsibilities several times
Be able to give a quick overview of your background — you can keep your resume out to help guide you
Smile — even though it's a phone call, you can hear the difference in tone from someone who's smiling
Make the call conversational and be an active listener
Know what your salary expectations are
Prepare a general list of questions to ask at the end of the interview
Practice answering questions beforehand so that you have some ideas for answers 
Take notes
These tips will help you feel more comfortable during the interview. Next we'll talk about which questions you should ask and when. 
Questions to ask recruiter before interview 
Prior to the interview you can reach out to the recruiter with questions to help you prepare. This will help you better understand the process and what's expected of you, because not every company handles phone interviews the same way. Plus, the recruiter will be happy to assist you in any way you need so use that to your advantage. Here are some questions to ask recruiter before interview: 
What is the interview process like?
What is the salary range for this position? 
What's the expected start date of this position? 
Who will I be interviewing with?
What will the interview focus on?
Are there any particular questions I should prepare to answer?
Is there any type of test I should be prepared for? 
How many candidates are being considered for this position? 
Are there any particular skills I should highlight? 
These are great questions to ask employer before interview, and it will show them that you take this interview very seriously. Recruiters are your allies and the more prepared you are for the interview, the better they look because their job is to place great candidates in great jobs. 

Questions to ask during a phone interview
During the phone interview, you have a chance to ask more formal questions, and depending on who you're interviewing with, you can ask about the direct responsibilities of the role. If you're chatting with an HR team member, you can gear your questions more toward the company culture and a general overview of the company and the role. These are good questions to ask HR in an interview because they likely have less interaction with the role on a day-to-day basis, so won't know all of the details. If you are talking with the hiring manager, you can ask more specific questions about how you will work together and what the day-to-day of your role will be. Here are some good interview questions to ask employers:
How would you qualify success in this role?
What does the career path for someone in this role look like?
What other teams does this role work with most often?
What do you like best about working here?
What are some challenges you've seen people on this team encounter?
What is the company culture like?
What are the policies in place around COVID-19? 
Do team members work from home? 
What are some diversity, equity, and inclusion practices this company does?
What are some activities you try to do as a company?
These are good first round interview questions to ask employer because they keep it relatively general so if you're not speaking with the hiring manager, the interviewer will still be able to answer your questions. These questions to ask phone interviewer also get you familiar with different aspects of the company, like the culture and how they are dealing with COVID-19.
Additionally, these questions to ask during a phone interview give you an idea of what the role will be like and what teams you will be working with.
Top 20 phone interview questions to prepare for 
And for good measure, here are some questions you will likely be asked in your interview, so use this phone screen questions template to help you prepare. These are the top 20 phone interview questions to prepare for:
Tell me about yourself.
Walk me through your resume. 
What interests you about this role?
What are your strengths?
 What are your weaknesses?
What are you looking for in your next position?
Why do you want to leave your current position?
Tell me about your job responsibilities.
Describe a challenge that you faced and how you dealt with it.
How do you stay organized?
How do you handle stress?
Why are you interested in this company? 
Where do you see yourself in five years?
What do you expect from management?
What is your preferred work style?
How would your current boss describe you?
How do you handle a difficult person?
Tell me about a time you failed. 
Do you prefer a collaborative or independent environment?
How do you keep your skills elevated?
A few of these powerful questions to ask during an interview will likely come up, so be prepared with answers beforehand. 
Questions to ask at the end of a phone interview
At the end of the phone interview, your interviewer will pass it over to you and say "do you have any questions for me?" You should always come prepared with a few questions to ask at the end of a phone interview, because this shows you've researched the company and care about landing the position. 
Here are some examples of phone screen interview questions you should have prepared:
What is your favorite thing about working at this company?
How do you see this company evolving over the next five years?
Who would you say is your top competitor, and why?
What are the biggest challenges the company is facing right now?
Who would this position report into?
What does the ideal candidate look like for this position?
What's something you've worked on that you've been particularly proud of?
Was there someone in this position or is this a new role?
How would you measure the success of this position?
What's something that the last person in this position did well that you'd like to see continued?
Is there a typical career path for someone in this position?
What are the next steps for this position?
When should I expect to hear back from you?
Is there anything else I can provide to help you with your decision? 
These are some killer questions to ask at the end of an interview that will show your eagerness for learning about the position and company. 
Then once the interview has concluded, you'll want to send a follow up email to everyone you interviewed with. In the email, you can thank them for their time, talk about why you'd be great for the role, and ask any follow up questions you may have thought of. Or if you ran out of time during your interview, sending over some questions to ask after an interview is a good idea as well. 
Interviews don't have to be stressful. With the right amount of preparation, you'll ace your next interview. Whether you're hosting an interview or preparing for one, you should check out our eBook on commonly asked illegal interview questions.