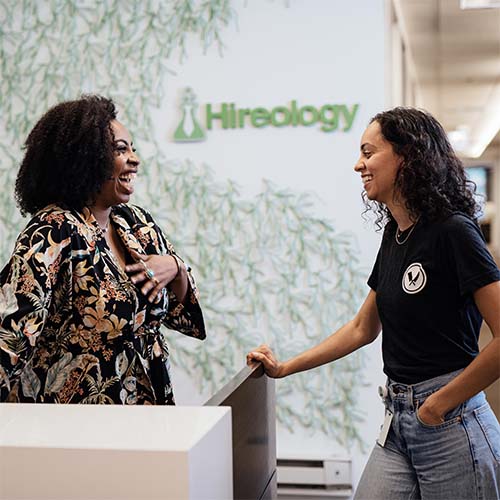 Manage your HR and payroll processes from one intuitive platform
Payroll System Software - Hireology
Everything you need to build your best team
Hireology gives you the process and tools to attract top applicants, hire the right candidate and onboard with ease.
Payroll System Software - Hireology
A hiring process your team and candidates will love
Enterprise-caliber solutions connect you with your team and applicants to provide an incredible candidate experience.
Hire with confidence in our all-in-one platform
Businesses across all industries rely on Hireology to execute a human-centered hiring and people management process that works.
What our customers are saying

"I love everything about this platform. One of my goals is to run an agency with a post-pandemic view in mind. That means maxing out on paperless, electronic, virtual, and remote capabilities. Hireology allows me to do this effortlessly from my phone."
"Before Hireology, we had an outdated and inefficient hiring process. We now have a consistent and compliant process that allows us to make decisions backed by data to hold hiring managers accountable."
Human Resources Director |
Lincoln Park Zoological Society
"The customer success team at Hireology routinely takes the time to review applicants live with me. Getting a second set of eyes on my pipeline, in addition to learning techniques to save time, is the kind of customer experience I am looking for as a business owner."
Alphagraphics- Irving, TX
"Prior to hireology we were tracking all recruiting efforts across our 50 locations with an Excel spreadsheet. We were recruiting with blindfolds on, utilizing free local job boards and managing applicant pools out of our email inboxes. Since partnering with Hireology in 2016 we have redefined recruiting for Fox Motors."
Talent Development Manager |
"Hireology took our hiring platform out of a Google Sheet and into a sustainable platform."
Executive Administrator |
Learn how Hireology can help you attract and hire talent fast
Payroll System Software
Believe it or not, vetting and purchasing a payroll system software is more than just finding a platform to cut checks. There's so much that goes into a quality payroll system, and payroll is one of the most important tasks your HR team does because an incorrect payroll run can be extremely costly for your organization. 
So when you do start to consider what type of HR payroll software you should invest in for your organization, you need to think about how to relieve your HR team of the manual processes associated with payroll. That includes benefits management and time and attendance. You also should think about investing in a system that has an employee self-service portal, so that your employees don't have to come to your HR team anytime they need a copy of their paystub or a tax document. 
In this blog, we'll talk about the different types of payroll systems, what sort of payroll is better for larger organizations versus small businesses and startups, a list of top payroll software companies that offer payroll solutions, and more. Read on for tips on choosing the right payroll software system for your business. 
Types of payroll systems
With many types of payroll systems to choose from, the selection process can get overwhelming, but it's important to remember that there are also plenty of ways to vet each platform, including industry reviews and demos. This makes it much easier to get a starting list of payroll software programs that might work for you.
To start the search process, begin with considering what problems your payroll solution needs to solve for. Do you simply want to be able to deliver paychecks on time? The answer is probably no, as you'll need assistance in additional areas if you actually want to relieve your HR team of time-consuming responsibilities. Look at the full scope of what a payroll platform is capable of, such as time and attendance and benefits management, and then consider what other HR platforms you have in place. 
If you find yourself needing more assistance than just payroll, don't look for a stand alone payroll software. Search for one that can integrate with your other tools and keep your process moving smoothly, or consider a platform that offers an all-in-one solution for your hiring and post-hire processes. That way, you don't have to continue searching for ways to save time and tackle all of the hiring process and employee management in one go. 
Lastly, look for a software that is trusted by those in your industry. It's one thing for a payroll platform to advertise that they are industry-agnostic, but when organizations have an unusual payout schedule or a lot of rules around overtime pay, clunky systems can struggle. Ask around and see what platforms are trusted among industry professionals. 
Free payroll software
You may be tempted to type "payroll software free" into your search engine, but there are a lot of cons that come with free payroll software. Many platforms advertise themselves as being free when they actually have hidden fees and tricky contracts that are difficult to get out of. There are also added security measures around payroll platforms that you'll need to be aware of, so even if a payroll system software free download sounds appealing, think of the bigger picture. 
When going for a platform that offers free service, think about if it will actually save your HR team time. If it turns out to be more of a hassle for your team, it's not worth the time you'll lose having to switch again. Create focus groups if you have a larger HR team so that you can identify their pain points and see what problems the technology will need to solve. Consider your other employees, too. What they would like from payroll, like an employee self-service portal or the ability to submit vacation requests or download pay stubs through an app. These won't be found in free payroll software, which means you'll need to weigh the pros and cons of using a free platform at your organization. 

List of payroll systems
There are quite a few payroll companies out there, so it can be challenging to narrow down your list when vetting payroll platforms. The most important thing you can do is create a checklist of everything you need from your payroll system — including pricing and features.
There are two main buckets of payroll systems — on-premise and cloud. These both have different capabilities and serve different types of organizations. 
An on-premise or hosted payroll system is held at the site of operation and usually works best for businesses with over 100 people on the payroll. On-premise payroll systems take up physical space, and the hardware can become outdated and need to be updated, and often require a representative to come to your place of work to troubleshoot issues.
Here's a list of payroll systems that are considered on-premise: 
HR Roll
ADP Payroll Software
Oracle
Gavdi
SAP Payroll
Cloud-based payroll systems sometimes referred to as SaaS payroll, are stored in the cloud, meaning your payroll can be accessed, operated, and controlled from a remote system using an internet connection. With a cloud-based payroll system, issues can be resolved virtually, without a representative having to come in person, and there's no hardware to worry about, so updates can be done virtually as well.
Here's a list of payroll software that falls under the cloud-based system category for you to consider: 
Quickbooks payroll online and QuickBooks payroll software
Netchex
Paychex Software
Onpay
Gusto Payroll
Intuit Payroll
When deciding which type of payroll platform to get for your business, the important things to take into consideration are the size of your business, your budget, the ability to upgrade if certain needs arise, the caliber of their support team, the ease of implementation, how it integrates with your current softwares, and if it's trusted in your industry. 
When you've thought through these questions, you can decide if an on-sight or cloud-based payroll system is a better fit for your organization. 
Best payroll software for large business
What does it take to be a great payroll software for large companies? For one, it requires the ability to integrate with your other technology. If a payroll platform checks most of your boxes but doesn't speak to your current systems, your HR team will continue to struggle with time-consuming re-entry and there will be more room for costly errors. 
With larger companies especially, the payroll burden can be huge. So consider all that's required of the best payroll software, because it's much more than simply cutting checks. When you're evaluating your top contenders, consider their ease of use because you'll likely have to teach several individuals how tooperatee it right away, and if the teaching process isn't simple to replicate, you'll see more errors occur. 
Payroll software for large companies should also help you manage time and attendance and benefits. That way, you don't have to rely on several platforms to run concurrently. If you can find a platform that offers an all-in-one hiring solution, you'll be better off in the long run as well, because you'll be able to operate your entire hiring process from one platform. Hireology gives you the ability to attract applicants, interview and hire great candidates, and manage payroll and other post-hire practices all from one centralized location. It's known among industries as being one of the best payroll software for large business contender because of its many features to streamline your processes, including a brand new employee referral program. So not only will you be able to run payroll seamlessly, you'll be able to hire top talent much faster. 
Payroll systems for small businesses
And when it comes to the best small business payroll software, you have to consider your company's projection over the next few years. You don't want to switch outsoftwares every year or so, so it's important that you find one that can grow with you. Hireology helps here as well because it doesn't require a large HR team to keep it afloat like many of the stand alone payroll platforms built solely for large organizations. We function as a great payroll system for small businesses because we are user-friendly, cost-effective, and versatile, meaning you can attract, hire, onboard, and manage your employees from one single system. 
Great payroll software for small businesses should also provide you with an employee self-service portal because your small HR team is likely already strapped for time. By giving your employees access to all of their payroll information through a portal, you're empowering them while giving your HR representatives time back. 
Whether you're looking for an HR and payroll software for small businesses or large organizations, it's important to take the necessary steps to vet your top options, and that includes seeing how the platform actually works. Schedule a demo with Hireology today to see how our all-in-one platform can transform your hiring and employee management processes.