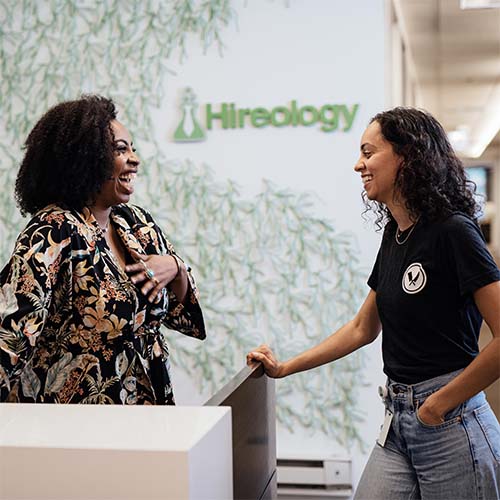 Online Recruitment Software
Manage your hiring process from anywhere with an online recruitment software
Online Recruitment Software - Hireology
Everything you need to build your best team
Hireology gives you the process and tools to attract top applicants, hire the right candidate and onboard with ease.
Online Recruitment Software - Hireology
A hiring process your team and candidates will love
Enterprise-caliber solutions connect you with your team and applicants to provide an incredible candidate experience.
Hire with confidence in our all-in-one platform
Businesses across all industries rely on Hireology to execute a human-centered hiring and people management process that works.
What our customers are saying

"I love everything about this platform. One of my goals is to run an agency with a post-pandemic view in mind. That means maxing out on paperless, electronic, virtual, and remote capabilities. Hireology allows me to do this effortlessly from my phone."
"Before Hireology, we had an outdated and inefficient hiring process. We now have a consistent and compliant process that allows us to make decisions backed by data to hold hiring managers accountable."
Human Resources Director |
Lincoln Park Zoological Society
"The customer success team at Hireology routinely takes the time to review applicants live with me. Getting a second set of eyes on my pipeline, in addition to learning techniques to save time, is the kind of customer experience I am looking for as a business owner."
Alphagraphics- Irving, TX
"Prior to hireology we were tracking all recruiting efforts across our 50 locations with an Excel spreadsheet. We were recruiting with blindfolds on, utilizing free local job boards and managing applicant pools out of our email inboxes. Since partnering with Hireology in 2016 we have redefined recruiting for Fox Motors."
Talent Development Manager |
"Hireology took our hiring platform out of a Google Sheet and into a sustainable platform."
Executive Administrator |
Learn how Hireology can help you attract and hire talent fast
Online Recruitment Software
Online recruitment software has revolutionized the way in which we hire. It's given HR team members the ability to vet candidates easier, remain in contact with great applicants, and stay organized throughout the hiring process. 
On top of all that, great HR recruitment software can help your hiring process move at lightning speed, even when the hiring landscape is difficult. With an all-in-one hiring platform, you're able to attract applicants, review their qualifications, move them through the interview process, automate background and reference checks, onboard, and manage employee benefits and payroll. That's a lot of time saved for your HR team, so it's important to know what's out there in terms of online recruitment software and how your organization can benefit from it. 
In this blog, we'll talk about what you can expect from great recruitment management systems, how to vet your top contenders, what works best from small versus large businesses, and the pros and cons of AI recruitment software. Read on to find out how to pick the best online recruitment software for your company. 
Recruitment management system
A recruitment management system makes it easy for you to oversee the recruitment process as it keeps all of your documents, applicant information, and candidate tracking in one convenient system. Great recruitment management systems can help you with your entire hiring process as well, not simply just attracting applicants. You can get access to application building assistance, automatic job board posting, an employee referral program, along with a platform that will move candidates through the interview process, onboard new hires, and manage payroll, time and attendance, and benefits. 
Your internal recruitment software can also be used to help keep your interview process running smoothly, as some include interview guides, automated prescreen surveys, candidate verification measures like background and reference checks, as well as a rating system that lets HR members or hiring managers include notes throughout the interview. All of these together help to alleviate a great deal of time from your HR team and dramatically increase the speed at which you hire. During a hiring crisis like we're currently in the midst of, the speed at which you hire has to be expedited if you want a chance at securing top talent. 
A great recruitment management system like Hireology is necessary to make that happen. Running your recruitment process from an Excel spreadsheet makes hiring a huge task, so look into recruitment softwares that will help alleviate your manual processes and provide a positive applicant experience. 
Recruiting software for small business
When you're running a small business, your concerns are likely much different than those of larger enterprises or even agencies. While all are keen to hire, your strategies may vary and your need for talent fast may be different as well. So it's important to look for recruiting software for small businesses rather than those that work better for larger companies or the best recruitment software for agencies.
Look to other companies within your industry of similar size to see what's working for them. Great healthcare staffing agency software, for example, may have a lot of different necessities than a tech startup with twelve employees. That's why it's important to hear from those within your same industry to ensure your needs will be met. 
Check online to hear from those that have used certain recruitment platforms so that you can make an informed decision based on companies that have actually tested them out. Then create a list of the best recruiting software for small business, and schedule demos with the top companies. Seeing the system in action will help you understand its ease of use, if it will actually solve your company's recruiting issues, and if your staff will be able to quickly get up to speed. Once you've seen the demos from each company, look into the implementation and customer service that each provides. These are two very important facets because you will inevitably run into issues either as you're getting up to speed on the software or later on down the line. A responsive, helpful team will make all the difference and will be worth the price. The best ATS for small businesses will come equipped with a great team to make sure their product runs smoothly.
Talent acquisition software
Talent acquisition software is built to help you run your hiring process more effectively. So when looking for a platform to help, you should consider what your pain points are, where you think you'll need the most support, and who your industry is using. 
Talent acquisition technology trends come and go, and there are plenty of software platforms that claim to offer the latest and greatest in talent acquisition assistance, but any that claim to give you the ability to attract more talent aren't being completely honest. The solution to low talent acquisition is nuanced, and one way to increase your applicant flow is to get more eyes on your open applications. You can do this by utilizing more sourcing channels, modifying your job descriptions to include SEO best practices, and making sure your career site has all relevant information that an applicant would be looking for. But a software company can't guarantee that you'll see more applicants — it takes work, too. Hireology helps you with all of these areas, and posts to job boards specific to your industry, along with the broader domains. So you will have more eyes on your applications which will result in more candidates applying. 
Companies like Workable, Zoho recruit, Smartrecruiters, and Freshteam do offer talent acquisition software, but Hireology has an all-in-one platform that makes everything from connecting with talent to benefits management a breeze. And it's cost-effective and user-friendly so you won't have to worry about stressing out your team or emptying your wallet. 

AI recruitment software
Another option when it comes to enlisting software for your hiring process is enlisting an AI recruitment software. AI, or artificial intelligence, is used to predict candidates that would be a good fit to help recruiters automate the recruitment process. AI for recruiting aims to help deliver more qualified candidates to recruiters, but there are some disadvantages of AI in recruitment. One of those disadvantages is the AI hiring bias that can occur. 
Without human decision makers or even human input, it's difficult to avoid making biased hiring decisions, as you have to set parameters around the type of candidate you're looking for without the ability to be too descriptive. Companies like Amazon have scrapped their AI recruitment software because it showed bias. Additionally, AI platforms can cast out qualified talent if they don't have the proper formatting or wording on their resumes, costing you great hires. So instead of using AI for recruiting, you can utilize prescreen surveys where applicants are asked straightforward, role-specific questions. If they answer these questions incorrectly you can automatically eliminate them from the hiring process. This replaces the role of AI in recruitment by still ensuring that your team is only reviewing qualified candidates, but doesn't unnecessarily remove candidates if they have resume formatting issues or risk you running a bias hiring process.
Best talent acquisition software
When looking for the best talent acquisition software, it's important to have clear objectives and goals that you're looking to achieve, so that you know which type of software will work best. An all-in-one hiring software is often the best bet for those struggling to manage their hiring and employment management processes. That's because the hiring process can be filled with tons of manual and siloed processes that slow down hiring and cost you quality applicants. And investing in a variety of hiring technologies can create even more barriers with systems that are unable to speak to one another. 
The other issue you may run into in your search for great talent acquisition software is searching for "recruitment software free" in Google. While it may seem like you can find a free system online, you will run into issues with functionality, hidden fees, or time-wasting issues that stress your team out and make your hiring process even less smooth. It's better to opt for creating a budget that you're willing to spend based on industry averages and finding a solution that actually works to alleviate your hiring pains. 
There are several platforms to choose from, but if you're looking for a platform that helps you attract applicants, move candidates through the process, hiring top talent, manage benefits and payroll, and has a mobile app to help you manage your process from anywhere, look no further than Hireology. You'll be able to speed up your hiring process, gain valuable insights using the analytics dashboard, and attract more applicants with our employee referral program. 
Hireology has helped over 7,000 great businesses around the country build their best team. Are you ready to improve your hiring process from start to finish? Schedule a demo with us today to see what Hireology can do for your pre- and post-hire processes.