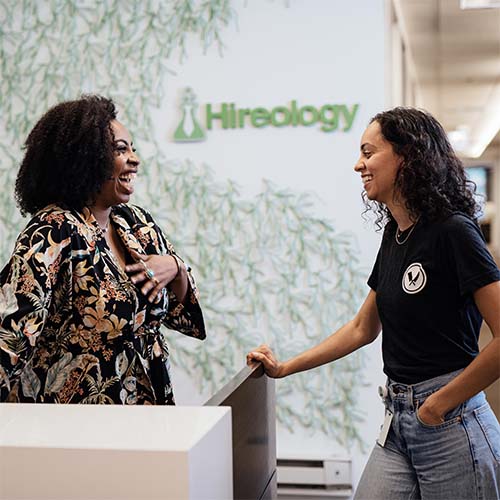 Human Resource Management System Software
Ensure your hiring process runs smoothly with Hireology's human resource management system software
Human Resource Management System Software - Hireology
Everything you need to build your best team
Hireology gives you the process and tools to attract top applicants, hire the right candidate and onboard with ease.
Human Resource Management System Software - Hireology
A hiring process your team and candidates will love
Enterprise-caliber solutions connect you with your team and applicants to provide an incredible candidate experience.
Hire with confidence in our all-in-one platform
Businesses across all industries rely on Hireology to execute a human-centered hiring and people management process that works.
What our customers are saying

"I love everything about this platform. One of my goals is to run an agency with a post-pandemic view in mind. That means maxing out on paperless, electronic, virtual, and remote capabilities. Hireology allows me to do this effortlessly from my phone."
"Before Hireology, we had an outdated and inefficient hiring process. We now have a consistent and compliant process that allows us to make decisions backed by data to hold hiring managers accountable."
Human Resources Director |
Lincoln Park Zoological Society
"The customer success team at Hireology routinely takes the time to review applicants live with me. Getting a second set of eyes on my pipeline, in addition to learning techniques to save time, is the kind of customer experience I am looking for as a business owner."
Alphagraphics- Irving, TX
"Prior to hireology we were tracking all recruiting efforts across our 50 locations with an Excel spreadsheet. We were recruiting with blindfolds on, utilizing free local job boards and managing applicant pools out of our email inboxes. Since partnering with Hireology in 2016 we have redefined recruiting for Fox Motors."
Talent Development Manager |
"Hireology took our hiring platform out of a Google Sheet and into a sustainable platform."
Executive Administrator |
Learn how Hireology can help you attract and hire talent fast
Human Resource Management System Software
Human Resource Management System software (HRMS) is a type of HR software that has multiple systems and processes in one platform in order to make HR processes easier to manage. While you're not limited on options for HR systems, not all platforms are considered equal, and it's important to weigh the pros and cons of each before making a big purchase at your organization. 
Some systems have an HRMS portal, for instance, where your employees can access all their important information, like pay stubs, tax documents, and schedules, without having to contact your HR department. This portal allows employees to be in control, promoting a better employee experience, and giving your HR employees valuable time back. 
Additionally, the best HRMS software creates ease of use and informs hiring process standards so that you can have a consistent and streamlined process. With an all-in-one HRMS platform, you can manage every step of the employee lifecycle — from recruitment to payroll — from one place. So where should you start when searching for a quality human resource management system software? We've got several tips around how to decide which type of platform is best for your organization, what features you'll need to run a successful hiring process, and any red flags to avoid. 
HRMS meaning
The term HRMS meaning is a system that is used in human resources to streamline various daily HR processes and save your HR team time. Oftentimes, this includes applicant tracking, automated payroll, and tracking and managing employee schedules. Some human resource management system projects have an employee self-service portal as well that gives employees access to all of their most important documentation, which puts those systems a cut above the rest because of the added time-saving capabilities for your HR team. 
The best way to evaluate what type of HR system you should choose is to create an HR system requirements checklist for your organization. It should include all of the manual processes that take your team hours to complete, like payroll and benefits management, and should also have a price range consideration. Then once you've drawn up a checklist, talk with other industry professionals to hear their opinion on some of the top HRMS platforms, as you want a software that is industry trusted and will help alleviate your particular set of pain points, in addition to being able to communicate with your current softwares. 
Lastly, you should schedule product demos with the list of top HRMS platforms to see them in action. Your checklist should be used as you review the products, and you should consider ease of use and your ability to teach new employees how to use the software. Then, determine which HRMS platform will be able to grow with your company the most. For example, if you plan to double in size at your organization over the next few years, you want a platform that can facilitate that without requiring a huge HR headcount at this moment in time. 
HR software systems
So now that you understand the differences between various types of HR software systems, the next step in deciding what's best for your organization is to look at the different types of HR systems out there. 
You have quite a few to choose from, but it's important to vet the capabilities of each system so that you know what the top players have to offer. Here's an HR software list of companies that offer different types of HR software.
Bamboo HR
Zenefits
OrangeHRM
Sentrifugo
Sage
Kronos
15Five
JazzHR
Gusto
Paycom
While these systems may have multiple features and functions, Hireology is the only HR software system that has everything you need — from recruitment to post-hire — to make your processes seamless and integrated. Other cheap HR software may claim to have similar capabilities, but they lack industry use and often have buggy software. Hireology offers a user-friendly all-in-one platform that helps you execute all of your HR needs from one place. With other systems, you'll have to invest in several to take care of all recruitment, hiring, and employee management processes that Hireology offers. This can cause systems to be disjointed and actually add time to your hiring process — something you want to avoid in the current hiring climate that we're in. Additionally, other hiring platforms may include hidden contracts and fees. Hireology has straightforward pricing that allows you to know exactly what you're paying for upfront. 

Human resource management system example
Another step in the process of selecting an online HR software is seeing demos from top-rated platforms. You should have a list created based on your research on the top HR softwares, so choose those as your starting point for a demo so you can see a human resource management system example, as well as how user-friendly their products are. 
There are different types of HRIS systems — some that include payroll, employee management, and other handy HR tools, so ask for the specifics when you see demos from the various HR software companies. Make sure you understand each feature of the platform and all the capabilities before signing a contract. Some companies may claim to be an all-in-one employee management platform, but if during the demo, you see a lot of clunky parts that don't seem to communicate, don't be fooled. This type of software can actually add time to your HR processes because your team will have to make up for the disjointed systems. 
A great human resource management system example is one that includes recruitment, hiring, and post-hire process solutions. It will allow you to run the entire HR process from one platform and will sync with your other software so that your team won't miss a beat. Hiring can involve a lot of manual work, but with a good HR platform, you'll be able to make your hires quickly without burdening your team with hours of paperwork. 
HRMS software features
Some great HRMS software features include support throughout your recruitment, hiring, and post-hire processes. The best HR systems will help you post open roles to job boards and other sourcing channels, prescreen applicants, run candidates through an interview, automate background and reference checks, and allow you to run payroll and benefits administration tasks once an employee is hired. 
Keep in mind that some platforms are geared for different types of companies. That means that the best HR software for startups may be different than the best HR software for enterprise businesses. Some of the softwares out there require a large headcount on your HR team to keep processes running smoothly, so make sure when you're looking at software features, you also take into account the needs of your particular business. Look for a product that has all of the above, but can function well with the number of team members you currently have. And, remember that you'll likely need to teach multiple team members how to use the software, so ease of use should be a big consideration, too. 
Best HRMS software
Your search for a great HRMS software may turn up with some duds. Free HR management software always sounds appealing, and it may seem like it will help you speed up hiring without costing your organization a dime. But the truth is, oftentimes payroll and HR software that's advertised as free comes with hidden expenses or low-quality software that ultimately costs your team more time. 
The best HRMS software will offer straightforward pricing and direct contracts that don't lock you into paying more than you expected. And you'll know that you've made a good choice by picking a software that others in your industry can back. While you may be able to find a cheap HR software from a small startup, you'll essentially be their guinea pig. 
Another quality of the best HR and payroll softwares is a great customer support team. Every software has its pros and cons, but having a great team that you can call into at any time for assistance is a game-changer. Hireology's best-in-class customer success team has been praised countless times for the dedication we have to our customers. We've even been rated #1 on the HRO Today's 2021 Baker's Dozen — a list entirely based on customer ratings and satisfaction —  for an outstanding customer support team. 
So while you need a system that can handle the stringent processes your HR team has to tackle daily, you also need to seek out a company that offers full support at all times throughout your process. Some companies will "set it and forget it" and leave you to troubleshoot on your own when errors inevitably occur. But you don't have to compromise on support.
Are you looking to build your best team quickly and efficiently? Hireology's all-in-one human resource management system software can help, and we'll make sure we're always available to answer any questions or help you solve a problem, as well as solve your hiring pains. Reach out to us to schedule a demo today.