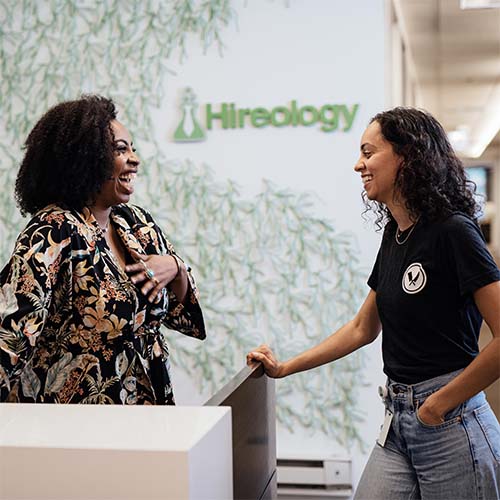 HR screening questions to help you quickly and easily screen applicants to ensure you're getting top talent
HR Screening Questions - Hireology
Everything you need to build your best team
Hireology gives you the process and tools to attract top applicants, hire the right candidate and onboard with ease.
HR Screening Questions - Hireology
A hiring process your team and candidates will love
Enterprise-caliber solutions connect you with your team and applicants to provide an incredible candidate experience.
Hire with confidence in our all-in-one platform
Businesses across all industries rely on Hireology to execute a human-centered hiring and people management process that works.
What our customers are saying

"I love everything about this platform. One of my goals is to run an agency with a post-pandemic view in mind. That means maxing out on paperless, electronic, virtual, and remote capabilities. Hireology allows me to do this effortlessly from my phone."
"Before Hireology, we had an outdated and inefficient hiring process. We now have a consistent and compliant process that allows us to make decisions backed by data to hold hiring managers accountable."
Human Resources Director |
Lincoln Park Zoological Society
"The customer success team at Hireology routinely takes the time to review applicants live with me. Getting a second set of eyes on my pipeline, in addition to learning techniques to save time, is the kind of customer experience I am looking for as a business owner."
Alphagraphics- Irving, TX
"Prior to hireology we were tracking all recruiting efforts across our 50 locations with an Excel spreadsheet. We were recruiting with blindfolds on, utilizing free local job boards and managing applicant pools out of our email inboxes. Since partnering with Hireology in 2016 we have redefined recruiting for Fox Motors."
Talent Development Manager |
"Hireology took our hiring platform out of a Google Sheet and into a sustainable platform."
Executive Administrator |
Learn how Hireology can help you attract and hire talent fast
HR Screening Questions
There are times with job applications attract applicants that may not be a great fit for the role of your company. This happens when either applications don't provide enough information for the role and requirements, or when applicants misunderstand or ignore the requirements. This can cause your HR team to spend hours reviewing applicants that aren't a good fit, wasting valuable time and drawing out the hiring process. Top talent gets scooped up quickly, so you don't have time to waste. That's why prescreening questions and HR screening questions are important. They help you identify talent that has the basics of what you're searching for — such as background, experience, etc. — and move them through the process automatically.
Some hiring processes have screening questions for job applicants in their application that ask very direct questions about an applicant that they then have to answer, such as "do you have the required two years of experience?" Depending on how these questions are answered determines if an applicant will move forward in the hiring process, which you or your HR team can set the parameters for. 
Other hiring processes use phone screening questions to get a better sense of applicant experience. This usually involves an HR team member reaching out to promising candidates to schedule an initial screening before having candidates meet with hiring managers. This type of pre screening interview saves your hiring managers time as they only speak to the top candidates selected by your HR team. Questions during the pre-screen interview usually revolve around a candidate's background, their fit for the role, why they want to work at your company, as well as your HR team member detailing the role more specifically for the applicant. This gives a more thorough understanding of a particular candidate's qualifications than a pre-screen survey in an application. 
While both of these methods are great ways to screen applicants, combining them is really your best bet at hiring great team members. We've created this blog to walk you through what is a pre-screening interview, what questions you should ask, along with a phone interview cheat sheet that gives examples of great questions to get to know a candidate. Read on to find out how to properly screen applicants during the recruitment process and why it's essential that you do so. 
How to conduct a phone screen interview
If you're new to interviewing, you may be wondering how to start a phone interview as the interviewer. It's simple, but it does require preparation on your part. We'll give an overview of how to conduct a phone screen interview, along with pre-screening questions for job applicants in the next couple of sections. 
First, you'll need to schedule the phone interview with applicants that you've already flagged as promising candidates based on their resume and their responses to the prescreen survey. You can do this via email, text message, or phone call. Send a calendar invitation with the time, and don't forget to include the time zone just in case your interviewee is in a different location.
Before the interview, make sure to review the applicant's resume and portfolio if applicable and write down any clarifying questions you'll need to ask about their background. Visit their LinkedIn page to gain further information if they have one. 
At the time of the interview, start with a bit of small talk so that they feel comfortable. This may not seem important, but it puts your applicant at ease and allows them to relax a bit during a somewhat stressful situation. Then you can give a brief overview of the position and what you're looking for, and you can ask them to detail their background. Once they've talked you through their experience, ask about why they want to work specifically for your company and why they are open to leaving their current position. These are important questions that will help you understand the type of employee they will be, and you'll be able to see if they've researched your company and what has attracted them to apply. Ask other follow-up screening interview questions when applicable as well.
You can then move into a more detailed description of the role and the day-to-day responsibilities they will hold. You can discuss salary, benefits, and other perks offered by the company, as well as the team dynamic and culture. Remember, the candidate is interviewing you as well to make sure your company is a good next step, so try to hit on what makes your organization a great place to work. 
One of the last pre screening interview questions should be "do you have any questions for me?" and your candidate should ask any lingering questions they may have. Then you can conclude with the expected next steps and a timeline. 
Throughout the interview, you should be taking notes on the applicant's responses so that after the interview, you can make a decision on whether or not they should move forward. Some applicant tracking systems have the ability to take notes within their platform on each candidate, which gives the rest of your team insight into why you did or didn't move a candidate forward.
Lastly, you should provide the candidate with feedback, and information on their next interview or a brief explanation of why they won't be moving forward. 

Pre screening interview questions
Your application screening questions will differ from role to role, so it's best practice to use an applicant tracking system platform that allows you to customize your questions. For example, you may need to ask a person that's responsible for driving a company car whether or not they have a valid driver's license. But you wouldn't have to ask a teacher that question. So the way you structure your applicant screening questions is important to helping you find someone great. 
Here are some screening questions examples that you can add to your application: 
Do you have a valid driver's license?
Do you have the necessary two years of experience that's required for this role? 
Do you have a reliable mode of transportation?
Are you legally able to work in the US?
Are you over the age of 18? 
These HR questions for employees are more direct and usually require a yes or no answer, which makes it easy for your team to weed out those that aren't right for the role. With a good applicant tracking system, you can set parameters that automatically disqualify applications with a certain number of incorrect answers, so your team won't even have to review them.
And here are a handful of pre screening questions and answers pulled from the top 20 phone interview questions list that you can ask in a phone interview held by an HR professional: 
What excites you about working for our company?  
I'm interested in working here because of your company's core values that are outlined on your website, as well as the reputation of the brand among customers. It's clear that you're keen on fostering great company culture, and it's refreshing to see a company that values both employees and customers, and I would be thrilled to work at your organization.
Can you tell me about your background and why you'd be a great fit for this role? 
I have several years of experience in the field, and I've really enjoyed working at my former companies and growing my knowledge base. I am looking to move on to a role that is more challenging and allows me to grow in my expertise, and I think this sounds like the perfect role for that. 
What are your salary expectations? 
I'd like to fall within the range of $XX-$XX, but I'd love a better understanding of your entire benefits package, as culture, growth opportunities, and good benefits make that range more flexible. 
When would you be able to start? 
I would like to give my manager two weeks' notice, so I would be able to start two weeks after an offer letter is extended. 
What questions do you have for me?
Here's where your applicant can ask any lingering questions — and they should come prepared with at least a few. This shows that they've taken the time to research your company and the role and that they are genuinely interested in learning more. 
These screening questions for recruiters can help you better distinguish top applicants from the rest, and make an educated decision on whether or not you should move an individual along in the hiring process. 
Pre screening questions and phone interview questions help you better understand a candidate's fit for the job. Hireology helps you create great job descriptions and automate the prescreening surveys issued to job applicants, and has interview templates, including phone screen questions templates, and an in-platform rating system so you can run your interviews smoothly and efficiently. We also have tools to help you manage your new employees after they've accepted the job offer, including payroll and benefits management. 
Interested in seeing how Hireology's all-in-one hiring platform can transform your hiring process? Schedule a demo today.