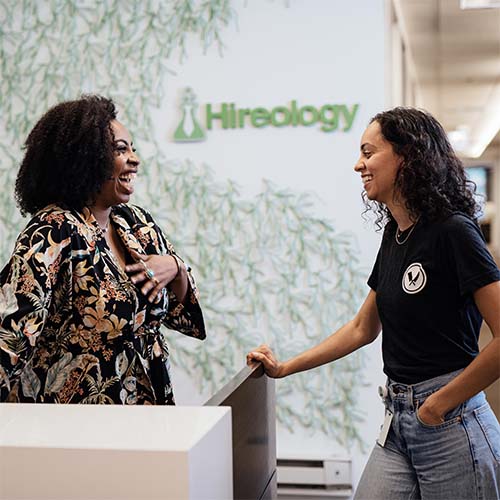 Ensure your onboarding runs smoothly with Hireology's HR onboarding software
HR Onboarding Software - Hireology
Everything you need to build your best team
Hireology gives you the process and tools to attract top applicants, hire the right candidate and onboard with ease.
HR Onboarding Software - Hireology
A hiring process your team and candidates will love
Enterprise-caliber solutions connect you with your team and applicants to provide an incredible candidate experience.
Hire with confidence in our all-in-one platform
Businesses across all industries rely on Hireology to execute a human-centered hiring and people management process that works.
What our customers are saying

"I love everything about this platform. One of my goals is to run an agency with a post-pandemic view in mind. That means maxing out on paperless, electronic, virtual, and remote capabilities. Hireology allows me to do this effortlessly from my phone."
"Before Hireology, we had an outdated and inefficient hiring process. We now have a consistent and compliant process that allows us to make decisions backed by data to hold hiring managers accountable."
Human Resources Director |
Lincoln Park Zoological Society
"The customer success team at Hireology routinely takes the time to review applicants live with me. Getting a second set of eyes on my pipeline, in addition to learning techniques to save time, is the kind of customer experience I am looking for as a business owner."
Alphagraphics- Irving, TX
"Prior to hireology we were tracking all recruiting efforts across our 50 locations with an Excel spreadsheet. We were recruiting with blindfolds on, utilizing free local job boards and managing applicant pools out of our email inboxes. Since partnering with Hireology in 2016 we have redefined recruiting for Fox Motors."
Talent Development Manager |
"Hireology took our hiring platform out of a Google Sheet and into a sustainable platform."
Executive Administrator |
Learn how Hireology can help you attract and hire talent fast
HR Onboarding Software
Making a new hire is an exciting time for you and your company. Each individual employee holds great potential, and it's likely that you're eager to get them started as quickly as possible to immediately drive impact. That's why you should put thoughtful consideration and careful planning into your onboarding process. The first 90 days are the most important of an employee's entire career with your organization. It can make or break their perception of your company, and it can prepare or hinder their individual development thereafter. 
Needless to say, onboarding is a pretty big deal. And in the times that we're in right now, it's all the more essential to institute a great onboarding process, because each day is filled with unexpected hurdles that you and your staff may have to jump through. 
By investing in an employee onboarding software, you can make sure that your new hires are up to speed without spending hours and hours on manual processes. You can even begin the onboarding process before their first day so that they don't feel bogged down by paperwork. 
So what type of HR onboarding software should your organization choose? It depends on the type, size, and structure of your company. Do you want to offer online employee onboarding? Do you want to create a comprehensive onboarding program or just an outline for managers to follow? Do you want to get rid of manual paper processes and improve your employee experience? Do you have a large HR team or just a few members?
These are all valuable questions that will help you choose a great onboarding software for your company. But if you don't yet know the answer to some of these questions, that's okay. We've put together this guide to walk you through the different types of HR onboarding tools, including the benefits of digital onboarding, as well as a list of companies that offer HR onboarding software. 
HR onboarding tools
When considering what type of HR onboarding tools to invest in, start by considering the size of your business and how this may affect the software you choose. Some companies make onboarding and payroll platforms that are built especially for enterprise companies with large HR teams because they require a lot of manpower to keep the process running smoothly. Therefore, a small business or startup wouldn't see the same benefits as a larger franchise or enterprise company, and would likely be unable to afford the same software. Luckily, there is employee onboarding software for small business options that don't require a huge team of HR and payroll experts to keep systems in place. 
Companies like Hireology offer a seamless onboarding experience that's directly connected to your hiring process, so candidate information is automatically uploaded to your onboarding and payroll platforms, making it easy for you to begin scheduling, setting up time & attendance, and creating a comprehensive onboarding guide. The automation of this information transfer relieves your team of the manual process of re-keying employee information that can result in costly mistakes. The best part is, you don't need a huge team to keep Hireology running, especially because of our standout customer support team. We make sure your hiring and onboarding process are always running smoothly so you don't feel overwhelmed.
In contrast to free employee onboarding software that small organizations may consider, Hireology has a robust list of functions and straightforward pricing. Free employee onboarding tools often lack key components to keep your process moving along smoothly, and can contain hidden fees or sticky contracts that will end up costing you more long-term. So while HR onboarding software free may sound appealing, it's best to go with an option that has transparent pricing and checks all the boxes your organization is looking for. 
Digital employee onboarding
The importance of digital employee onboarding cannot be overstated. Especially because many candidates expect it — according to our 2021 State of Hiring report where we surveyed nearly 5,000 recent hires about their job search experience, 61% said they were able to fill out their new hire paperwork digitally before their first day. It's no longer a nice-to-have, it's a step that alleviates your HR team, and your new hires, of manually filling out, copying, and filing paperwork every time a hire is made. 
For organizations with tons of documents, digital employee onboarding can be a saving grace. Hireology has a document collections portal, which is especially useful for collecting certifications, tax documents, and any other essential paperwork without the need for paper filing cabinets taking up physical space in your office. 
Better yet, Hireology has an HR onboarding app where employees can access their important documents, like pay stubs and schedules, so your HR team has even less to worry about keeping track of. 
Employee onboarding software free doesn't have this capability, or many of the others to actually make your processes easier. 
digital employee onboarding
Digital onboarding software
There are many options when looking for digital onboarding software, but not all of them are created equal. It's important to look at customer reviews, get a sense of the software's compatibility with your current tech, and stay away from software that claims to be free. The likelihood of a free digital onboarding platform having the capabilities you need are slim, and it's also common that these "free" platforms have hidden charges and tricky contracts. Instead, make a checklist of the must-have for your organization, compare services and watch demos, and select a platform that's worthy of investing in. 
Here's a list of some employee onboarding software solutions: 
Hireology
Bamboo hr
Freshteam
Sentrifugo
GoCo
ClearCompany
Ultimate Software
ADP
WorkBright
Best employee onboarding software
Looking through the above list will help you get a feel for what's on the market in the employee onboarding space, but you'll need to research which onboarding and training software has the most comprehensive offerings, makes your hiring and onboarding process faster and easier, and is user-friendly for your team and new hires.
Additionally, if you have remote employees in your organization or plan on implementing hybrid hiring, choosing a remote onboarding software will help you tremendously. It will make it so your new hires can do all of their onboarding without ever having to come in to the office, a great perk in our current environment. 
Look for employee onboarding services that also are able to integrate with your other employee management tech, like your scheduling platform. 
The best employee onboarding software will offer a hiring and payroll solution in addition to digital onboarding. That way, all of a new hire's information can flow seamlessly through the recruitment process to payroll and onboarding processes without requiring your team to rekey employee information. 
Free onboarding template
While we don't recommend opting for a free onboarding HR software, we have put together this free onboarding template that details some examples of what you can cover in your employee's first 90 days. The important thing to remember is to make sure everything you write out as a goal is measurable so that you're able to track progress. Additionally, don't be afraid to include your new hire in their onboarding plans. Add goals they want to achieve by certain dates and ask about focus areas they may be interested in to create some tasks they're excited about. 
Here's a breakdown of a solid 30-60-90 day plan that you can modify for your onboarding: 
First week: 
Familiarize yourself with the team
Schedule one on one meetings with your team members to understand their role
Read XX blogs and resources to get familiar with our industry
Attend onboarding training sessions that are added to your calendar
Get all logins for various softwares
Become familiar with our core values
First 30 days: 
Attend weekly meetings with your manager
Shadow your trainer on the floor/observe demos of our product
Tackle your first project
First 60 days: 
Perform your role at full capacity with less oversight
Get more involved in the company by joining a group or sports team 
Schedule meetings with different members of leadership for insight into their roles
First 90 days:
Take initiative to find ways to have more autonomy
Decide on a project you're interested in working on
Set personal goals and metrics 
Use this employee onboarding template when you make your next new hire so that you can ensure they're immediately up to speed and their progress is able to be measured. And just FYI, you shouldn't stop training programs after an employee's first three months. Ongoing training is linked to long term retention, better productivity, and higher revenue for your business, so anytime a new technology is introduced or a new message or feature is rolled out, give your staff a tutorial so they can continue to grow their knowledge of your business.
Need help improving your HR onboarding processes, or any other aspects of pre and post employee hire? Reach out to us at Hireology. We can walk you through how our product can transform your employee management processes.