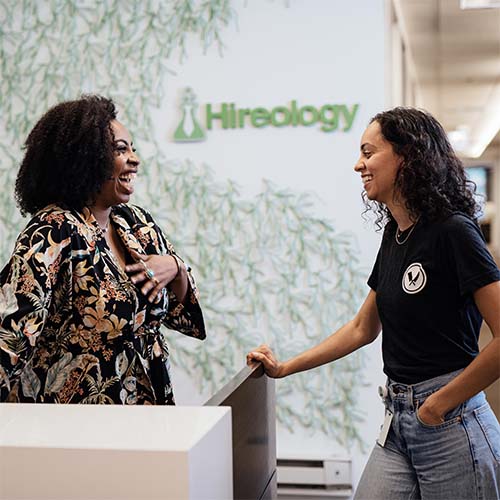 Post Hire Assessment Tools
Quickly and easily screen applicants to ensure you're getting top talent
Post Hire Assessment Tools - Hireology
Everything you need to build your best team
Hireology gives you the process and tools to attract top applicants, hire the right candidate and onboard with ease.
Post Hire Assessment Tools - Hireology
A hiring process your team and candidates will love
Enterprise-caliber solutions connect you with your team and applicants to provide an incredible candidate experience.
Hire with confidence in our all-in-one platform
Businesses across all industries rely on Hireology to execute a human-centered hiring and people management process that works.
What our customers are saying

"I love everything about this platform. One of my goals is to run an agency with a post-pandemic view in mind. That means maxing out on paperless, electronic, virtual, and remote capabilities. Hireology allows me to do this effortlessly from my phone."
"Before Hireology, we had an outdated and inefficient hiring process. We now have a consistent and compliant process that allows us to make decisions backed by data to hold hiring managers accountable."
Human Resources Director |
Lincoln Park Zoological Society
"The customer success team at Hireology routinely takes the time to review applicants live with me. Getting a second set of eyes on my pipeline, in addition to learning techniques to save time, is the kind of customer experience I am looking for as a business owner."
Alphagraphics- Irving, TX
"Prior to hireology we were tracking all recruiting efforts across our 50 locations with an Excel spreadsheet. We were recruiting with blindfolds on, utilizing free local job boards and managing applicant pools out of our email inboxes. Since partnering with Hireology in 2016 we have redefined recruiting for Fox Motors."
Talent Development Manager |
"Hireology took our hiring platform out of a Google Sheet and into a sustainable platform."
Executive Administrator |
Learn how Hireology can help you attract and hire talent fast
Post Hire Assessment Tools
After weeks or months of searching, you've finally found a candidate you and your team are really excited about. They did really well in their interview and your team seems to really like them. The final step before you extend an offer letter is to make sure their skills match the role requirements. Then once they've accepted the position, you initiate a background check and ask for references to ensure they're going to be a great employee. Each of these steps helps you ensure you're making the right hiring decision and will lead to better employee retention. 
Throughout the recruitment process, there are several opportunities for screening and evaluating candidates: there are pre-screening surveys that ask simple and straightforward questions about the qualifications of the role, the actual resume review, your interview process, reference and background checks, and skills tests. Each of these evaluation tactics tells you a great deal about your candidates and their ability to do the job well. 
These selection methods in HRM make your hiring decisions easier, as you can double check the quality of your applicants and how good of a fit for the role they are. Without these methods, you risk someone underperforming or being totally wrong for the position. Many of the assessment techniques are issued before you make a hiring decision when individuals are still in the candidate phase, but some organizations prefer to use post post-hire assessment tools to keep the process moving along quickly. Reference checks, for instance, can take a while to acquire due to the time it takes to follow up with each person on a candidate's list. This is in some ways out of the applicant's control as well, so companies don't want to hold up the process. 
In addition, background checks are often issued after a hiring decision has been made since they cost money for the organization to run them. Having a mix of pre and post hire assessments will keep your process moving while still maintaining the integrity of every hire you make. Here's a breakdown of the various assessment types, and how HR systems can help you run them. 
Pre employment assessment tools
While post hire assessment tools are very helpful, pre employment assessment tools can give you insight into your candidates before you extend a job offer, which can save you a lot of trouble. 
Both pre and post hiring assessment tools help you determine applicant fit, but pre employment assessment tools will save your HR team the hassle of going through the hiring process with candidates that aren't right for your company. Look into platforms that offer recruitment assessment tools for all steps of the recruitment process to ensure your hiring decisions are thorough. 
Hireology offers a great pre employment testing software that lets you choose from dozens of different types of pre hire assessments, as well as post hire tools to help you automate your entire hiring process. It even has interview guides including aptitude test questions for interviews, so you can properly vet candidates every step of the process. 
Skills assessment tools
Skills assessment tools are a great option for your recruiting process, as they ensure your candidates have the necessary qualifications to be successful in the role. Skills tests can be administered in an effort to decide between top candidates, or can be a part of your hiring process for every role. Depending on the nature of the position, skills tests vary and can be either creative, analytical, or technical. 
For a role as a visual designer at a company, for example, a skills test might request that the candidate creates a mockup of a webpage option for the organization, or give a presentation on a new logo they created. That way the hiring manager can determine if their skills and thought processes align with that of the organization. These demonstrations also show you how your candidates receive feedback, so it can be a very telling tactic for gauging a candidate's potential fit.
Some other pre-employment assessment test samples include written tests with questions that candidates have to respond to, aptitude tests, requesting a candidate create a case study, or give a presentation on a certain aspect of the role they are applying to. Oftentimes, you can find examples of skills assessment tests for free online, but when you have dozens of applicants to vet for each position you post, free pre-employment assessment tools may not be the best way to go, as you can't automate the process with a free platform. However, if you have a creative role that you're hiring for, online assessment tests for jobs may be a good option because you'll need your team members to review them anyway.
With Hireology, your pre employment assessment test questions and answers are customizable to each role that you have open. Interestingly, only 40% of applicants complete their pre-screen survey based on Hireology data. That means you're only reviewing the best candidates and getting rid of those that don't see it as a priority. 
Assessment tools for recruitment and selection
There are dozens of types of assessment tools for recruitment and selection to choose from. With a great HR software, there may even be built in assessment tests that you can select to issue to your candidates. 
Hireology offers a wide range of the best recruiting assessment tools, from technical assessment tools to soft skills assessment. You can customize and automate the skills tests depending on the roles you are hiring for, making sure your hiring process continues to run smoothly. You can also automate the amount of time an applicant has to finish their assessment, as well as create reminder notifications. This allows you to essentially "set and forget" the tests so that you're not having to continually check in with your applicants to make sure they're completing their tasks. 
Another great type of assessment tool is the pre-screen surveys that Hireology offers. This is a survey that is issued to an applicant immediately following their application submission. These short questionnaires ask questions directly related to the role requirements. For example, if you've posted a role that says a candidate must have a certain certification or number of years of experience, one of the pre-screen survey questions can ask "do you have three years of experience?" If a candidate answers "no", their application is automatically removed from your review queue so you don't have to waste time on individuals who don't have the necessary requirements and ensures your team is only reviewing qualified applicants. 
Recruiting assessment test
Adding selection techniques and recruiting assessment tests to your hiring process save your HR team time when it comes to reviewing applicants, and as the hiring landscape becomes increasingly competitive, you want to make sure you're able to hire great talent as quickly as possible. They also make it so applications are short and sweet so you initially can capture more talent, because a long application process is one of the biggest reasons for applicants not finishing an application. And with a recruiting assessment test, you can truly test an applicant's abilities, whereas requirements like a cover letter might fall short.
Here are some recruitment assessment test examples that you can use in your hiring process from here on out:
Pre-screen surveys that ask specific questions about qualifications
Resume review by your HR team
Phone screenings run by a recruiter
A traditional interview with hiring manager
A culture add interview with members of the organization
A leadership interview
Skills assessment tests 
Reference checks
Background checks
Incorporating one or multiple of these skills assessment test examples will help ensure every hire you make is a quality one. 
Recruitment assessment methods
Now that we've talked about the various types of candidate assessment tests, we can go more in depth into the recruitment assessment methods that companies use to test their candidates. 
Some talent assessment tools offer an option between testing for soft or hard skills (the characteristics and personality traits of an individual vs the technical skills a candidate possesses), and some offer a mixture of both soft skills assessment questionnaires and hard skills questions. Depending on what type of test your organization chooses to conduct, you can gain knowledge about your candidates that you wouldn't otherwise have known until their first few weeks on the job. 
So for jobs with a lot of customer interaction for example, it may be a good idea to issue a soft skills candidate assessment test. These tests have questions that are often open ended so your candidates can provide details that reveal more about their personality. For a role like a technician, you may opt for recruitment assessment methods that look at technical skills instead.
You can also issue aptitude tests, and depending on the types of aptitude tests you choose, you can learn how well-suited a candidate is for certain positions.
Hireology's all-in-one platform helps you make strategic hires quickly, and keeps the administrative burden off of your HR team. Want to see Hireology in action? Request a demo today.