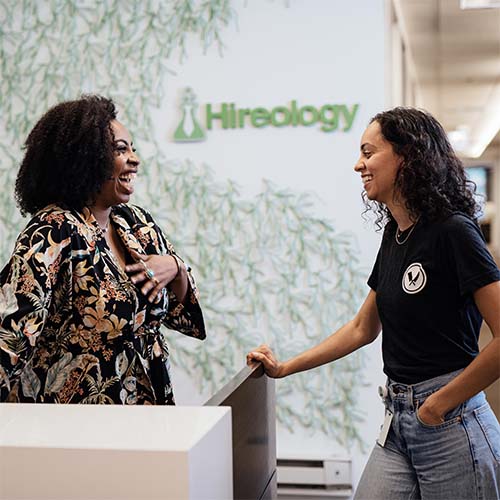 Hiring Process Management System
Manage your hiring process and candidate communication from one intuitive platform
Hiring Process Management System - Hireology
Everything you need to build your best team
Hireology gives you the process and tools to attract top applicants, hire the right candidate and onboard with ease.
Hiring Process Management System - Hireology
A hiring process your team and candidates will love
Enterprise-caliber solutions connect you with your team and applicants to provide an incredible candidate experience.
Hire with confidence in our all-in-one platform
Businesses across all industries rely on Hireology to execute a human-centered hiring and people management process that works.
What our customers are saying

"I love everything about this platform. One of my goals is to run an agency with a post-pandemic view in mind. That means maxing out on paperless, electronic, virtual, and remote capabilities. Hireology allows me to do this effortlessly from my phone."
"Before Hireology, we had an outdated and inefficient hiring process. We now have a consistent and compliant process that allows us to make decisions backed by data to hold hiring managers accountable."
Human Resources Director |
Lincoln Park Zoological Society
"The customer success team at Hireology routinely takes the time to review applicants live with me. Getting a second set of eyes on my pipeline, in addition to learning techniques to save time, is the kind of customer experience I am looking for as a business owner."
Alphagraphics- Irving, TX
"Prior to hireology we were tracking all recruiting efforts across our 50 locations with an Excel spreadsheet. We were recruiting with blindfolds on, utilizing free local job boards and managing applicant pools out of our email inboxes. Since partnering with Hireology in 2016 we have redefined recruiting for Fox Motors."
Talent Development Manager |
"Hireology took our hiring platform out of a Google Sheet and into a sustainable platform."
Executive Administrator |
Learn how Hireology can help you attract and hire talent fast
Hiring Process Management System
Combatting recruitment challenges at your organization can be an absolute nightmare. With so many moving pieces to keep track of, recruiting talent can feel like a job on its own. Depending on how many open roles you have and how many applicants you receive, you may be struggling just to manually review each application. On top of that, scheduling interviews, maintaining document organization, and facilitating candidate communication likely seems impossible.
But a hiring process management system can help you and your team ensure that your hiring process goes as smoothly as possible while still staying in touch with your applicants to keep them engaged. While there are quite a few talent acquisition software platforms available, the best hiring process management systems will transform your hiring and recruitment process by allowing your HR team to relinquish many of the manual processes that are currently in place and focus on their day-to-day responsibilities. 
An all-in-one hiring platform will include ways to source and attract applicants, seamlessly move them through the hiring process, onboard them into your company, and continue to offer support throughout the employee lifecycle. Some companies offer an online recruitment process platform and even a mobile app to help you hire from anywhere. And, your hiring process management system may even come with recruitment website features to help you make your career site more attractive to prospective applicants and ensure that your page is SEO-friendly. 
A hiring process management system can be an incredibly useful tool for companies looking to hire fast and weed through a large volume of applicants. It can help you get to the right applicants quickly so you can start moving them through the interviewing and verification process, and continue to ease your hiring struggles with automation. But it's important to also be wary of non-comprehensive applicant tracking systems and free ATS software that advertise themselves as a hiring process management system. The most basic tools do not offer the necessary integrations with third-party systems like skills tests which can limit the speed and effectiveness of your process, so make sure to look for a hiring process management system, or recruitment management system that offers the full package. Here are some things to consider while shopping around for a hiring process management system.
What is a Recruitment Management System?
A recruitment management system (RMS) is an HR tool that's used to automate and streamline an organization's recruitment process, and is synonymous with a hiring process management system. Similar to an applicant tracking system, a recruitment management system is used throughout the recruitment and selection process to post jobs, keep track of candidates, and automate your hiring process so that you can fill your open positions faster, and avoid the mundane and manual tasks often associated with hiring.  
In addition, a recruitment management system differs from an applicant tracking system in that it helps you engage with talent and improve your hiring process through taking additional steps to communicate with candidates. It's often difficult to run through a recruitment process while simultaneously effectively engaging with candidates, so that's where a recruitment management system can be helpful. 
Recruitment management systems can help you track and analyze key performance metrics throughout your recruiting process. This can help to highlight process trends, opportunities to improve, and ROI in an intuitive format, as well as answer these key questions:
Which recruiting sources give you the most quality applicants? The most hires?
How quickly is your team reviewing applicants?
How quickly are candidates moving through the hiring process?
Is your team following the hiring process steps? Is anyone cutting corners?
A great recruitment system example is the Hireology platform, as it offers an all-in-one solution for recruiting and hiring, complete with analytics to ensure you're able to adjust your process to facilitate faster hiring. You can use the same system to post jobs to multiple outlets, review candidates, communicate with talent, issue and track reference and background checks, extend offer letters, run digital onboarding, and manage payroll. 
These recruitment management system features don't come standard with every system. In fact, many companies offer disjointed and clunky systems that can cause your processes to move exponentially slower, despite their claim of streamlining the hiring process. This is due to the lack of integration between your organization's current softwares and the recruitment management system. 
Hireology, however, integrates with dozens of platforms, including scheduling and skills testing software, to make sure that your entire process runs smoothly and your new hire information flows seamlessly from system to system. 
How A Hiring Process Management System Can Help Your Recruitment Process
Your recruitment process likely consists of several steps including posting a new job, reviewing applications, setting up interviews, and submitting offer letters. Often, these are tracked in an excel document or by hand, which can be difficult to keep organized and do quickly. But a hiring process management system can take these recruitment process steps and automate them so that your team doesn't have to spend hours upon hours of their time and risk making costly mistakes. 
The typical recruitment process in HR usually involves the following steps:
Posting an open role with a detailed description
Sourcing candidates through job boards, social media, referrals, your career site, etc.
Review application submissions and screen candidates
Schedule interviews with hiring managers
Issue skills tests
Run reference and background checks
Extend an offer
These 7 steps in your recruitment process are oftentimes manual, and you're of course still meant to be keeping in touch with your candidates to keep them engaged. Without a recruitment management system, you and your team are likely struggling to fill roles quickly, which doesn't bode well for you in the current hiring environment. 
Hireology customers' average time to hire is 22 days, meaning Hireology users are reviewing applicants, hosting interviews, keeping candidates engaged, and extending offer letters in roughly three short weeks. Our all-in-one hiring process management system makes it easy for organizations to streamline their recruitment and hiring process, so that they don't miss out on qualified talent. By investing in a recruitment management system that helps automate your recruitment and hiring process, you'll be able to hire new employees faster than ever before and save your HR team hours.
In addition to those 7 steps, there are a number of onboarding and retention steps that fall under the scope of your HR team, and Hireology has the ability to automate those, too. With digital onboarding and payroll, your new hire information instantly transfers over, so you can get your employees set up for success before their first day. 
And a good and thorough onboarding process can be the difference between your new hire leaving your company for another role and keeping them around for years to come — because the first 90 days of an employee's career sets the tone for the rest of their tenure at your company. With a recruitment management system like Hireology, you can cast these worries, and your manual process, aside, and ensure that the recruitment process flow isn't interrupted. 
Recruitment Software
Picking the right recruitment software can be challenging, and it can take time to research what's on the market. To make sure your hiring needs are met, answer the following questions about your prospective recruitment software providers:
Do others in your industry trust it?
Does it integrate with your current technology?
Do you have to manually update it? 
Does it offer analytics to improve processes?
Will it help you communicate with applicants? 
Will it make your hiring process easier and more efficient?
Is it affordable?
These are the things you should look for in your recruitment management system software to ensure that your hiring process runs smoothly without costing your organization precious time and money. 
And, transparent pricing is a must, because without it, you can get stuck in an unsavory situation. For example, it may be appealing to look for free recruitment software, but oftentimes platforms that advertise themselves as "free" have hidden fees or contract lock-ins that trick you into spending more money long-term, and for a product that does a fraction of the work. It's best to find a platform that checks all of your boxes that you can rely on to help improve your hiring rather than opting for a "free" option that won't deliver when it matters.
Hireology's hiring process management system can help you move candidates through the hiring process quickly while still keeping candidates engaged and tracking each step of the process for accuracy and efficiency. 
Our user-friendly cloud-based solution helps to accelerate your hiring process without removing the human elements that make your company a great place to work. Additionally, our all-in-one solution offers digital onboarding and payroll to keep your employees engaged long after their first day and your HR team free of manual processes. 
Interested in learning more about Hireology's hiring process management system? You can schedule a free consultation where a member of our team will walk you through how Hireology can help you streamline your hiring process.