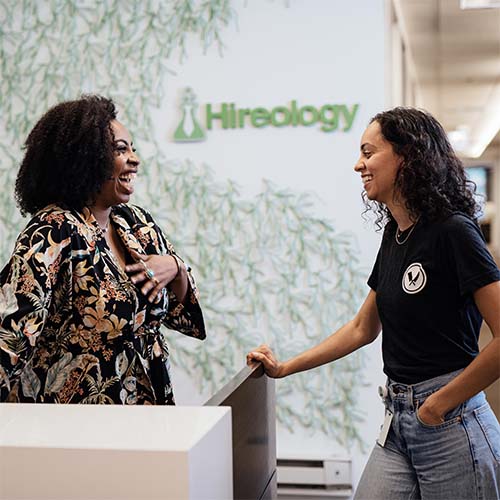 Hiring Process After Interview
What to expect after your interview concludes
Hiring Process After Interview - Hireology
Everything you need to build your best team
Hireology gives you the process and tools to attract top applicants, hire the right candidate and onboard with ease.
Hiring Process After Interview - Hireology
A hiring process your team and candidates will love
Enterprise-caliber solutions connect you with your team and applicants to provide an incredible candidate experience.
Hire with confidence in our all-in-one platform
Businesses across all industries rely on Hireology to execute a human-centered hiring and people management process that works.
What our customers are saying

"I love everything about this platform. One of my goals is to run an agency with a post-pandemic view in mind. That means maxing out on paperless, electronic, virtual, and remote capabilities. Hireology allows me to do this effortlessly from my phone."
"Before Hireology, we had an outdated and inefficient hiring process. We now have a consistent and compliant process that allows us to make decisions backed by data to hold hiring managers accountable."
Human Resources Director |
Lincoln Park Zoological Society
"The customer success team at Hireology routinely takes the time to review applicants live with me. Getting a second set of eyes on my pipeline, in addition to learning techniques to save time, is the kind of customer experience I am looking for as a business owner."
Alphagraphics- Irving, TX
"Prior to hireology we were tracking all recruiting efforts across our 50 locations with an Excel spreadsheet. We were recruiting with blindfolds on, utilizing free local job boards and managing applicant pools out of our email inboxes. Since partnering with Hireology in 2016 we have redefined recruiting for Fox Motors."
Talent Development Manager |
"Hireology took our hiring platform out of a Google Sheet and into a sustainable platform."
Executive Administrator |
Learn how Hireology can help you attract and hire talent fast
Hiring Process After Interview
So you've just had a great interview, and you're excited about the role and the company. You did a great job, prepared awesome questions, and felt like the whole process went really well. Now you're wondering what the next step is in the hiring process after interview.
Every company is different, but companies with the best hiring process that prioritize their candidate experience will follow up more quickly than others.
It can be tough to decide when to follow up, and they may have even given you a date that they'd follow up by, but if that date has come and gone, don't panic. Other things may have come up, so not hearing back when you expected to doesn't mean you didn't get the position. 
Organizations have different hiring process steps in place, so it may be that they're caught up on one of the longer steps, like background or reference checks. But we know the waiting game is hard. When you're stuck wondering when you'll hear back from a hiring manager or recruiter, it may make you panic or cause you anxiety. But there are some important things to remember:
Don't assume you didn't get the role
Don't stop your job search 
Don't be afraid to ask the recruiter how the process is coming along
The hiring process sometimes takes more time, and if certain interviews are taking longer than expected to schedule, or critical decision makers are out, the process can be delayed even further. 
So we've put together this blog to help illustrate the hiring process, including interview steps and timelines, to help put you at ease. 
Interview process steps
The interview process can be vastly different from organization to organization. Some companies have 5 stages of interview process steps, others have a dozen interview process steps. This doesn't make one process better than the other, but what does qualify as the best interview process is one that prioritizes the candidate experience. If you felt welcome during the interview, if the interviewer made conversation with you, and if you received prompt feedback, you're likely to hold that interview process above others. While it's important to remember that things do come up in between interviews and deadlines, you shouldn't be waiting months to hear back from an employer. 
A common interview process for employers is as follows:
Issue a pre-screen survey after an applicant has applied
Conduct a phone screen with an HR team member or a recruiter
Set up an interview with the hiring manager
Issue a skills test
Review the skills test
Issue a request for references
File a background check
Decide on a candidate
Call candidate to let them know they've been selected
Send an offer letter
Like I said, there's variability in this outline, but this represents a common recruitment and selection process flowchart. So if you're stuck at number 3 or even 4 for more than a couple weeks or longer than you were told you would be, you should follow up with the recruiter to see if there's any further information they may need from you. It's possible that they've not heard back from your references, or other candidates are still going through the interview process. 
Either way, you shouldn't be worried about following up to clarify. 

How long after an interview is a job offer made?
You may wonder "how long after an interview is a job offer made?" but that's another tricky question. A typical timeline is three weeks to a month, but Hireology customers often complete their entire hiring process in about 22 days, so it differs from organization to organization. 
Depending on the size of their HR team and the HR tech they have in place, it can take over a month to hear back, which can be frustrating. The best thing you can do is ask at the end of each interview when you should expect to hear back about the position and what the next steps are. That way, you know after final interview how long to wait to follow up with the recruiter. 
Another common question is "how many candidates make it to the final interview?" Around two to three individuals typically make it to the final rounds of interviewing, unless they have a few openings for the same role available. Some hiring managers want to be able to compare individuals so they'll require at least two interviewees to go to the final stage, but others are fine to have one contender go on to the final interview. The variability is usually based on the preferences of upper management, or possibly the policies in place by the company. Either way, if you're in the final round, you're part of an elite group so take pride in that.
Hiring process timeline
Each step of the hiring process can take a bit of time. At Hireology, we encourage our customers to set a goal for each step of the hiring process and monitor where they're falling behind, because we know that top talent moves fast and if they aren't quick to snag you, you have options. Here's a hiring process timeline overview to tell you more about how long the overall process can take: 
The screening process (including pre-screen survey and resume review) should take anywhere from one to three weeks.
Scheduling a phone interview should happen within a week or two as well.
Reviewing applicants and setting up the next round of interviews should occur in one to three weeks. 
The second round of interviews should happen within another one to two weeks.
If the company requires a skills test, they'll likely issue it and request it be completed in a few days to a week. 
If you have to meet with upper management, that should take another one to two weeks. 
Then you should receive a follow up email or offer letter within a few weeks.
This is a rough hiring process flowchart, and as I said it can vary based on the organization, but this is to give you an idea of what you can expect in terms of wait time and how long after interview to hear back from the recruiter. 
Chances of getting job after final interview
Your chances of getting job after final interview is relatively high — some career experts say you have about a 25% chance of getting the job, but in reality, your odds can be much higher depending on how many candidates moved forward. And if you're the only person that makes it to the final round, you're very likely to get the job. So stay positive and pat yourself on the back for making it this far.
Not sure what to expect after third interview? Ask if there are any more process steps or any other information they need from you, and ask what the timeline to hear back is likely to be. According to the Harvard Business Review, while you wait to hear back from an interview you should do the following things:
Send a thank you note and any follow up materials like your portfolio or samples of your work that were requested.
Try to find positive distractions like exercise, reading, or other hobbies you enjoy so that you can avoid overthinking.
Continue your job search just in case.
Decide if you truly want the role so that you know how to answer in the event that you're offered it.
Follow up a few days after if you haven't heard back by the date they said they would get back to you. 
These tips will help you remain level headed throughout the waiting period and will keep you in a positive state regardless of the outcome. 
Hiring process checklist
The last thing we'll cover in this blog is a hiring process checklist. This will help you understand all of the steps that an employer is going through so you get a better idea of what could be taking so long. 
Here's an example of a hiring process checklist from a typical Hireology customer of all the things they'd need to collect and what they'd need to share with candidates: 
Valid Driver's License
Proof of Vehicle Insurance
Video Interview Details Shared with Candidate
PPE Policies Shared with Candidate
Finance/manager approval to send an offer
And here's a recruitment process example for a healthcare organisation: 
CNA License
RN License
CPR Certification
First Aid Certification
TB Test Results
Immunization Records
Physical Exam Results
Proof of Vehicle Insurance
Proof of Medical Liability Insurance
As you can see, there are so many small details to remember and keep track of on the hiring side of things, so it's easy to fall behind, especially if you have to get this information from each candidate. 
Have more questions about interview processes and how you can ace your next interview? We're here to help. We've got a few resources you can look over, including our common illegal interview questions guide, so whether you're conducting an interview or participating in one, it's a must-read.