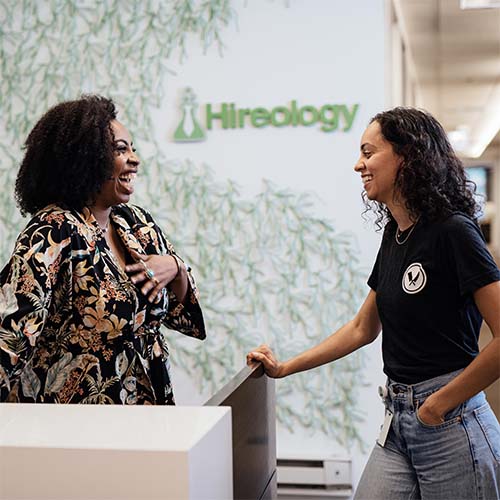 Diversity Hiring Best Practices
How to incorporate diversity and inclusion strategies into your hiring process
Diversity Hiring Best Practices - Hireology
Everything you need to build your best team
Hireology gives you the process and tools to attract top applicants, hire the right candidate and onboard with ease.
Diversity Hiring Best Practices - Hireology
A hiring process your team and candidates will love
Enterprise-caliber solutions connect you with your team and applicants to provide an incredible candidate experience.
Hire with confidence in our all-in-one platform
Businesses across all industries rely on Hireology to execute a human-centered hiring and people management process that works.
What our customers are saying
"I love everything about this platform. One of my goals is to run an agency with a post-pandemic view in mind. That means maxing out on paperless, electronic, virtual, and remote capabilities. Hireology allows me to do this effortlessly from my phone."
"Before Hireology, we had an outdated and inefficient hiring process. We now have a consistent and compliant process that allows us to make decisions backed by data to hold hiring managers accountable."
Human Resources Director |
Lincoln Park Zoological Society
"The customer success team at Hireology routinely takes the time to review applicants live with me. Getting a second set of eyes on my pipeline, in addition to learning techniques to save time, is the kind of customer experience I am looking for as a business owner."
Alphagraphics- Irving, TX
"Prior to hireology we were tracking all recruiting efforts across our 50 locations with an Excel spreadsheet. We were recruiting with blindfolds on, utilizing free local job boards and managing applicant pools out of our email inboxes. Since partnering with Hireology in 2016 we have redefined recruiting for Fox Motors."
Talent Development Manager |
"Hireology took our hiring platform out of a Google Sheet and into a sustainable platform."
Executive Administrator |
Learn how Hireology can help you attract and hire talent fast
Diversity Hiring Best Practices
Diversity and inclusion practices in the workplace have continued to be a focus across nearly every industry. It's necessary to create equitable hiring practices to ensure you're allowing great talent in your doors, regardless of age, race, gender, sexual orientation, or any other personal characteristic that is unrelated to job performance. But what is diversity recruiting and how do you implement it at your organization? 
Diversity hiring requires you to design a hiring process that provides equal opportunity to all candidates of diverse backgrounds and representations. It's not enough to say you're open to diverse individuals — it's the active approach to creating a diverse workforce. This means your organization will have to implement new strategies and metrics to target diversity and track your efforts. 
In this blog, we'll go over diversity hiring best practices, including the importance of recruiting for diversity, how to create a diversity hiring strategy, how to set diversity hiring goals for your organization, and some examples of successful diversity and inclusion programs. Read on to learn more about incorporating diversity hiring at your company. 
Why diversity hiring is important
The impacts of a diverse team reach all corners of your business, from your bottom line to your employee retention rate. According to a study conducted by McKinsey using a data set of over 1000 companies, diverse teams produce financial returns 33% higher than the industry average. A diverse team allows your company to better connect with the wide array of people that make up your customer base. 
A Cloverpop study revealed that decisions made and executed by diverse teams delivered 60% better results and inclusive teams make better business decisions up to 87% of the time. 
Harvard Business Review released a report showing that gender diversity leads to a rise in collective intelligence, and a study published in Taylor & Francis online journal proved that companies with more women are radically more innovative over a two-year period. So, if you want your business to be ahead of the curve, a diverse workforce is absolutely essential. 
Additionally, your organization should strive to create an atmosphere that welcomes all individuals and encourages equal engagement and representation, because these are the fundamentals necessary to build a diverse team. 
Diversity and inclusion are much more than just a hot trend. The reasons why diversity hiring is important go far beyond the events of the last couple of years, so you need to prioritize diversity hiring in order to grow your business and keep your staff around. 
How to promote diversity and inclusion in the workplace 
When deciding how to promote diversity and inclusion in the workplace, you should start from the very beginning of your recruitment process. Look at your job descriptions and make sure that they contain nondiscriminatory and gender neutral language in order to avoid unintentionally deterring applicants from applying. Think about how your wording may assume gender or identity as well — every word in your job description should empower qualified individuals to apply. This is part of gender diversity hiring best practices, as you wouldn't want anyone to feel like because of their gender, they will not be successful in a certain role.
Additionally, think about your job requirements and if they are absolutely necessary. For instance, requiring a college degree may not be essential to certain roles, so don't include it in the requirements. Even asking for internship experience may be discriminatory, as many interns aren't paid and therefore need to be able to make a certain amount of money outside of the internship to support them. 
Now, when it comes to resume review, take the same steps to avoid exclusionary behavior. If you're able, do a "blind" review by omitting identification details from resumes before reviewing. Things like names, colleges, and addresses should be hidden so that you and your team can base their decisions strictly on the qualifications of the individual. 
During the interview process, keep the content and process steps as consistent as possible. And do your best to include multiple interviewers in the process, so the hiring decision isn't just up to one person, as we all have implicit biases that can easily cloud our judgment. And make sure your interview team is able to articulate what they do or don't like about a candidate. Saying things like "it's just a feeling" or "I don't know if they'd fit in" is not an acceptable answer for why someone isn't a good candidate.
Lastly, you need to focus on your internal culture at your company in order to keep and attract new diverse employees. That means you need to put in effort to figure out where you're falling short by asking for employee feedback. Then, you need to take action and set realistic goals so that you can create a more equitable work environment that welcomes diversity. Additionally, stand by your zero tolerance policies and continue to teach employees and managers about implicit biases and how to recognize and correct them. Incorporating these inclusive hiring best practices will help your organization become a more equitable and inclusive workplace.

Diversity and inclusion framework and implementation plan
Developing a diversity and inclusion framework and implementation plan can help you execute on the above mentioned initiatives that you'll need to put in place at your organization. Here's a few steps you can take to start outlining your diversity and inclusion strategic plan template: 
Ask for feedback from your current employees about what needs to change at your organization. 
Set goals for hiking and use US demographic benchmarks to help make sure your goals are attainable. 
Work to ensure your culture is promoting diverse backgrounds and inclusive of all your employees as well as new team members.
Consider implementing a Diversity, Equity, and Inclusion council at your workplace to ensure DEI remains a priority.
Stand by your "zero tolerance" policies so that your employees feel safe at work.
Reevaluate any processes that may be led by unconscious bias like your interview and hiring processes and how you promote individuals. 
Use data to back up your findings so that you can show proof that change is occurring — or needs to occur. 
Your diversity recruitment strategies 2020 may be different from this year, so reevaluate your diversity and inclusion policy bi-annually or yearly to make sure your goals still make sense. 
Diversity hiring goals 
When it comes to setting diversity hiring goals, you need to focus on things that will be feasible, because otherwise you'll disappoint your team internally. But also, don't set goals that don't actually equate to really progress.
Set goals that are manageable and you will see change. Think about things that can have an immediate impact, like removing names from resumes and applications to eliminate unconscious bias when reviewing job seekers, and longer term goals, like having workforce representation that meets or exceeds the US demographic benchmarks by 2023 or donating a certain amount to charities as an organization every year (a couple of Hireology diversity goals examples). Thinking large and small will help you to truly move the needle on diversity initiatives.
Some diversity recruiting metrics you can think about are:
Having a certain number of female or non-binary candidates in each round of the interview process.
Having a certain number of non-white individuals of each round of the interview process.
Focus on outreach in diverse communities.
Use an Equal Employment Opportunity Collections survey to show representation across your company and assess where change most notably needs to occur.
These diversity metrics examples will help guide you as you establish your own diversity hiring goals. And don't forget about all the great diversity recruiting tools that are at your disposal, like Hireology, for instance, which helps you diversify your applicant sourcing and keep your interview process as unbiased as possible. 
Successful diversity and inclusion programs
As laid out by the Harvard Business Review, a few examples of successful diversity and inclusion programs are as follows: 
Set goals, collect data, and examine change over time — but don't forget to track compared to other organizations. While you may see progress, if it's drastically slower than your competitors, it's a problem.
Offer an employee assistance plan — this is an externally run hotline or help desk that allows employees to report harassment. When this process is kept internally only, it can lead to discrimination and retaliation. Taking the program outside of the office allows employees to feel safe about reporting complaints.
Keep an eye out for biased tech — there are platforms that can exacerbate inequalities. Many hiring platforms can be inherently biased and should be thoroughly scrutinized to avoid making your process less inclusive.
Involve management from the get go — everyone needs to be on the same page with the importance and implementation of diversity hiring and inclusive recruiting. Make sure your management team not only supports these initiatives, but work to make them happen. 
These diversity and inclusion strategy examples are a good place to start when crafting your own strategy. And if you need assistance crafting an inclusive hiring strategy, Hireology can help. Reach out to our team today and see how our all-in-one hiring platform can help you practice inclusive recruitment.