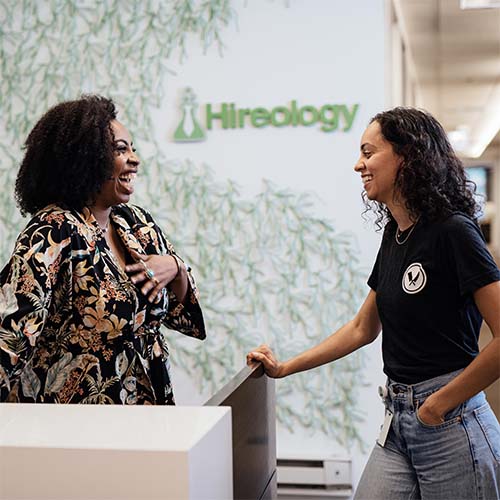 Ensure your hiring process runs smoothly with Hireology's HR application software
HR Application Software - Hireology
Everything you need to build your best team
Hireology gives you the process and tools to attract top applicants, hire the right candidate and onboard with ease.
HR Application Software - Hireology
A hiring process your team and candidates will love
Enterprise-caliber solutions connect you with your team and applicants to provide an incredible candidate experience.
Hire with confidence in our all-in-one platform
Businesses across all industries rely on Hireology to execute a human-centered hiring and people management process that works.
What our customers are saying

"I love everything about this platform. One of my goals is to run an agency with a post-pandemic view in mind. That means maxing out on paperless, electronic, virtual, and remote capabilities. Hireology allows me to do this effortlessly from my phone."
"Before Hireology, we had an outdated and inefficient hiring process. We now have a consistent and compliant process that allows us to make decisions backed by data to hold hiring managers accountable."
Human Resources Director |
Lincoln Park Zoological Society
"The customer success team at Hireology routinely takes the time to review applicants live with me. Getting a second set of eyes on my pipeline, in addition to learning techniques to save time, is the kind of customer experience I am looking for as a business owner."
Alphagraphics- Irving, TX
"Prior to hireology we were tracking all recruiting efforts across our 50 locations with an Excel spreadsheet. We were recruiting with blindfolds on, utilizing free local job boards and managing applicant pools out of our email inboxes. Since partnering with Hireology in 2016 we have redefined recruiting for Fox Motors."
Talent Development Manager |
"Hireology took our hiring platform out of a Google Sheet and into a sustainable platform."
Executive Administrator |
Learn how Hireology can help you attract and hire talent fast
HR Application Software
Does your organization use HR application software to help with the recruitment process? If the answer is no, your HR team is likely saddled with heaps of work that takes countless hours, and could be automated and streamlined.
Process management tools can be a great way to relieve your HR team of manual and time-consuming processes that bog them down. HRIS software can help with attracting applicants, running candidates through the hiring process, onboarding new hires, and managing post-hire processes, so it's a worthwhile investment for your organization. 
But what makes a good human resource management system and how should you go about carefully vetting the various platforms that are out there? With so many HR software systems to choose from, it may seem too overwhelming and stressful. But there's a simple process you can follow to choose a great HR system:
Identify the needs of your organization that an HR system can solve for, including the burdens and obstacles currently present in your people operations processes.
Establish a price range that your organization is willing to spend monthly on fixing these issues.
Research HR software options that are industry-tried and trusted, paying attention to features, integrations, user-friendliness, implementation time, and price.
Create a comparison chart of the top contenders and narrow down your list to the top three to five options. 
Request demos and trial periods of your highest rated HR systems.
Select the software that suits your organization's unique needs. 
Following these steps will help you navigate through the selection process much easier. Here are some other details to consider when looking for a top notch HR application software. 
Human resource management system software
The best human resource management system softwares or HRMS softwares will let you accomplish more than one HR task. Otherwise, you'll be creating silos in your HR processes. So rather than looking for a recruitment platform, an employee referral platform, an applicant tracking system, an onboarding program, and a payroll platform, search for an HR software company that offers all of these solutions in one. 
Look into types of HR systems that match the unique needs of your organization. For example, if you are a small business or startup with a small HR team, you'll want to find a platform that can take more of the administrative burden off your small and strapped team. But you'll want to make sure that the platform you choose actually relieves those stresses, unlike many free hr software downloads that boast user-friendly and robust features at no cost, but have hidden fees and tricky contracts that end up costing organizations much more money for a less intuitive solution. So as you consider what tools to purchase, look out for these deceptive practices, read customer reviews, and know what you're committing to. The best HR application softwares will be straightforward with pricing because they know their product is worth the expense. 
Types of HR software
There are different types of HR software that serve different purposes. As mentioned above, you should search for the most all-encompassing program, but there are some companies that claim to offer an all-in-one solution when they really don't have a full suite of software. 
There are three different types of HR software: Human Resource Information Systems (HRIS), Human Capital Management (HCM), and Human Resources Management Systems (HRMS). Each of these have unique functionality and offer a range of benefits.
Here is a breakdown of the different types of HR management systems, and what falls under each type of system:
Human Resource Information System (HRIS): Designed to manage people, policies, and procedures.
Recruiting and applicant tracking systems (ATS)
Benefits administration
Compensation
Training
Workflow
Self-service
Reporting
Human Capital Management (HCM): HRIS in addition to talent management.
Includes HRIS
Onboarding
Performance
Analytics
Human Resource Management System (HRMS): HRIS + HCM in addition to post-hire process management.
Includes HCM
Payroll
Scheduling
And here is a list of HR systems that are commonly used:
Sentrifugo
Oracle HR software
Bamboo HR
Zenefits
OrangeHRM
Sage
Kronos
15Five
JazzHR
Gusto
Paycom
This list of hr software includes a mix of types of HRIS systems, HCMs, and HRMS software. Many of these examples of HR software don't have the capabilities you would want for your organization, but Hireology is an all-in-one HRMS that ensures you're able to manage your recruitment, hiring, and post-hire processes from one user-friendly platform. 
Free HR management software
While you may be tempted to search for free HR management software, it's easy to get caught in tricky contracts or incur hidden fees — all for a system that has less functionality than a good HRMS. 
The other thing a free HR management software won't provide is a great customer service team to resolve issues or help you if you run into a roadblock of some sort. These platforms have the most basic functionality and don't offer long term support options, so you're essentially on your own. And once you've started using an HR management software and have inputted your employee and applicant information into the system, it can take an enormous amount of time to switch over to a new system in the case that you aren't happy with the services offered.
If you are looking for a free HR management software option, make sure you're vetting the platform you choose thoroughly. Look at reviews from other industry professionals, get a demo of what the platform offers so you can see its functionality. Get a grasp of what the platform can and can't do, and have a sensible conversation with your HR team. Is this free platform actually going to help with their workload or will they be saddled with an inefficient system that makes their administration burden even greater? In almost every case, the best thing you can do for your HR team is to find a solution that costs a reasonable amount and actually helps them get back to their day-to-day roles.
Best HR software for startups
When looking for the best HR software for startups, you have to think about the needs of your growing organization and what you'll need in just a few years time. If your internal team is small now, in a few years they might double and triple in size, depending on your business. That will double and triple the workload of your HR team, which will likely be unmanageable.  
Not to mention, disparate systems slow down your fast-paced organization, so investing in the right technology means even more to smaller businesses and startups because every dollar spent is an investment in the future of your business. 
Some organizations may opt for free hr software for startups, and while this might satisfy some of your needs at first, it's likely an incomplete version of a more robust software offering that costs an arm and a leg. And once you've begun using it, it's more time consuming to switch to a new system all over again, so you'll end up settling for an expensive, clunky product. 
So, rather than searching for a free online HR software, look for a platform that offers you and your HR team opportunities to improve productivity and quality of hires while alleviating your team of the administrative burdens that come with many HR responsibilities. 
The best HR software for startups will give your team continuous opportunities for improvement through actionable analytics that show where processes are slow or inefficient, along with great ways to keep organized and connect with applicants throughout the hiring process. They'll also offer a comprehensive solution for post-hire employee management, because your HR team's job doesn't stop once a hire is made, so neither should your HR tools. 
Hireology is a great option for startups and small businesses because it allows you to hire great talent and keep a people-first approach to hiring and employee management, while still moving your processes along at record speed. 
Best HRMS software
So because human resource management systems provide the most benefit to organizations, it's best to look for a great HRMS software. The best HRMS softwares can handle payroll management, scheduling, time and attendance, and integrate with your other technology so that your post-hire processes are automated and seamless.
Hireology serves industries of all types in their recruitment, hiring, and employee management processes. We offer the best HR and payroll software around, with over 7,500 organizations relying on us to keep their hiring and post-hire processes running smoothly. 
We deeply understand the unique hiring challenges and needs of businesses across many different industries — from automotive to healthcare to hospitality. And we're constantly updating our HR applicant software to help you optimize your processes, automate manual work, and keep pace with top talent to stand out in a tough job market. 
Need a solution for your human resource management? See how Hireology can transform your processes and relieve your HR team of the hefty and time-consuming burden that comes with human capital management. Schedule a demo with us today to learn more about our all-in-one platform.